E-Summit 2021
January 15, 2021 @ 8:00 pm

-

January 17, 2021 @ 5:00 pm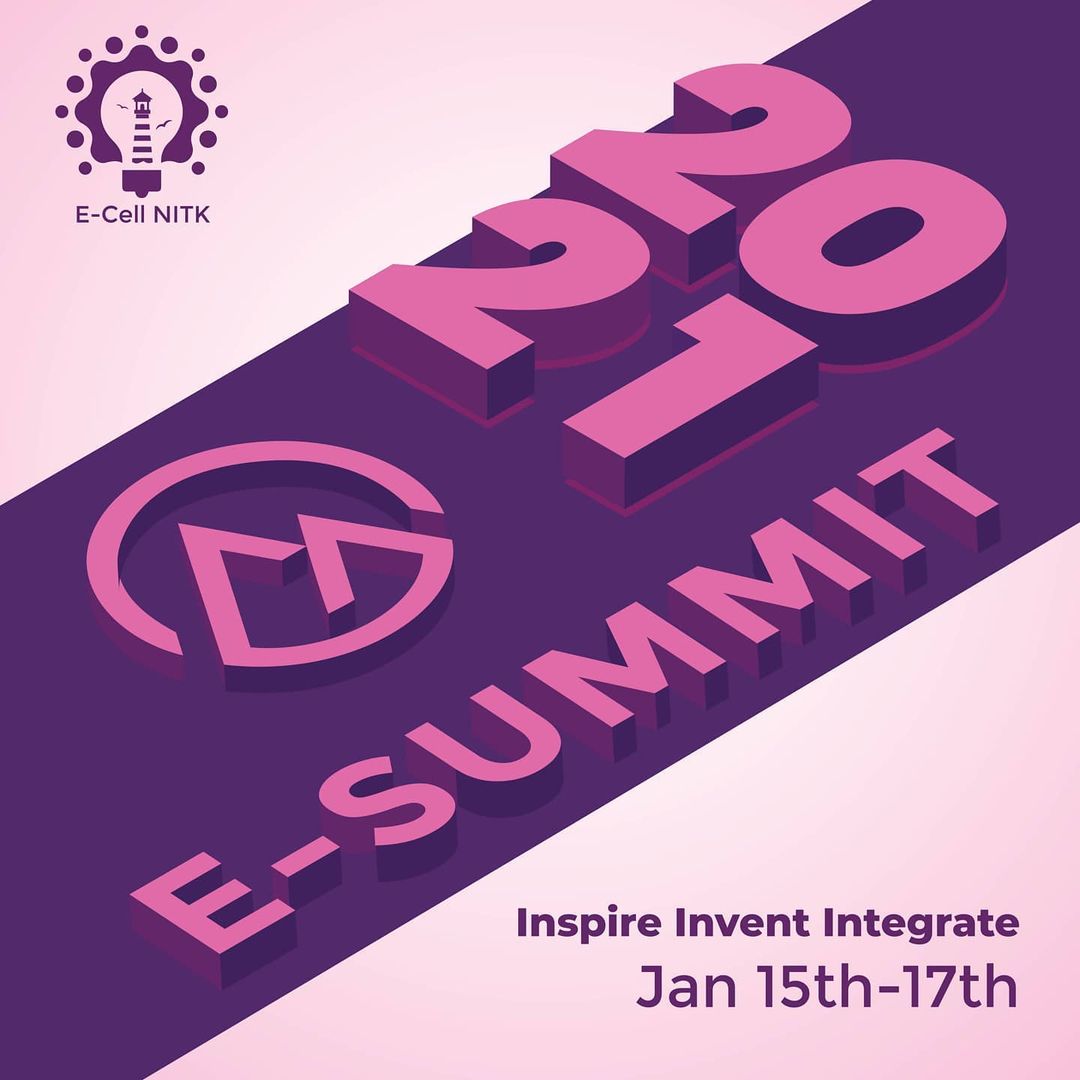 The Biggest Business Event of NITK
E-Summit 2021
Inspire. Invent. Integrate.
The time has come for National Institute of Technology Karnataka to host E-Summit 2021, the 5th edition of the annual flagship event of Entrepreneurship Cell NITK (E-Cell NITK), on 15th-17th January 2021.
E-Summit is an implementation of E-Cell's vision of nurturing young minds through their entrepreneurial journey. It is a three-day event aimed at spreading awareness about entrepreneurship and encouraging budding entrepreneurs to present their potential million-dollar ideas, achieving the former objective by exposing the participants to talks and interactions with eminent personalities of the start-up world and the latter by providing a platform to budding entrepreneurs through a pitching event that has routinely seen the heavyweights of the investing circles as our judges and potential investors. The numerous events also include workshops, competitions, panel discussions and quizzes which see great participation year on year. The event regularly sees participation from various colleges as well as start-ups from all over India.
E-Summit 2021 will feature :
E-Talks, a platform that gives people a deeper insight into what it takes to become an Entrepreneur and give them an idea of what the journey to becoming successful looks like. The esteemed speakers are David Meltzer, who is the co-Founder of Sports 1 Marketing and a three-time international best-selling author and Venkatesh Krishnamurthy, founder and CEO of Wharf Street Strategies. Catch them live at 8pm on 17th January, 2021 
E-Pitch, an opportunity to pitch start-up ideas and receive technical support and advice from the investors for the registered start-ups, designed to support the young entrepreneurs and secure the funding needed to turn your startup dreams into successful businesses.
Case Crunch, the annual case study competition where graduates and undergraduates all over India participate, prepared to rack their brains, understand, analyze and strategize and solve business, marketing, and branding related problems.
Panel Discussion, which will feature eminent young professionals and students from NITK Surathkal providing ideas and insights on educational policies that promote entrepreneurship and viable reforms for the same. The theme for this year's panel discussion is 'The New Education Policy 2020', where panel members from across the country would discuss this reform introduced by the Central Government of India and the ways it can be harnessed to cultivate entrepreneurship in the minds of the next generation right from kindergarten all the way to post graduation. Catch them live at 6pm on 15th January, 2021
Workshops, namely one by iB Hubs on "Elements of a Strong Business Model" by Mr. Abhinav Pandey (VP – Startup Strategy, iB Hubs) at 3 pm on 16th January and another by IIDE (Indian Institute of Digital Education) on "Digital Marketing and E-Commerce Management" by Daksh Juneja (COO at Avignyata Inc.) at 12 pm on 17th January. These workshops aim to introduce the participants to the entrepreneurial mindset and help them discover, learn and develop a wide range of skills. Participants develop creative capacity, entrepreneurial confidence, and acquire the necessary skills to solve real-life problems and learn from the best in the industry.
Sci-Biz Quiz, the annual business quiz conducted by the Literary, Stage and Debating Society NITK as part of E-Summit that puts the contestants' knowledge of all things business to the test. Here participants would be able to unleash their inner Elon Musk, Einstein and Steve Jobs as they go head to head with fellow business enthusiasts and quizzing aficionados. 
E-xecutive, a contest that emulates the corporate executive experience, with rounds that test participants' general knowledge of the business world and a final showdown that requires the participants to cooperate and work under pressure as they assume the role of members in a company's board room and navigate through a company crisis while building a counter-strategy, showcasing how effective a problem solver they can be.
Investofin, a game of luck, skill, and strategy that takes you through the main moves of the share transaction experience by simulating a stock exchange. In this mock stock game, each participant will be given $100,000 in virtual currency to trade with in a stock exchange. Participants will trade for a week, with the contestant having the highest portfolio worth being deemed the winner.
With over 9 events, prizes worth Rs. 75,000 up for grabs and 1000+ registrations in less than a week, this edition of E-Summit promises to be one you shouldn't miss. So be sure to check out our events and register using the links below!
Website : http://esummitnitk.surge.sh/
Dare2Compete:https://dare2compete.com/f/e-summit-nitk21-national-institute-of-technology-surathkal-8799
Instagram : https://instagram.com/ecellnitksurathkal?igshid=1022lgyejd10g
LinkedIn   : https://www.linkedin.com/company/ecellnitksurathkal/?originalSubdomain=in
Facebook : https://www.facebook.com/NitkEcell