International Mother Tongue Day – HESC
February 24, 2021

-

February 26, 2021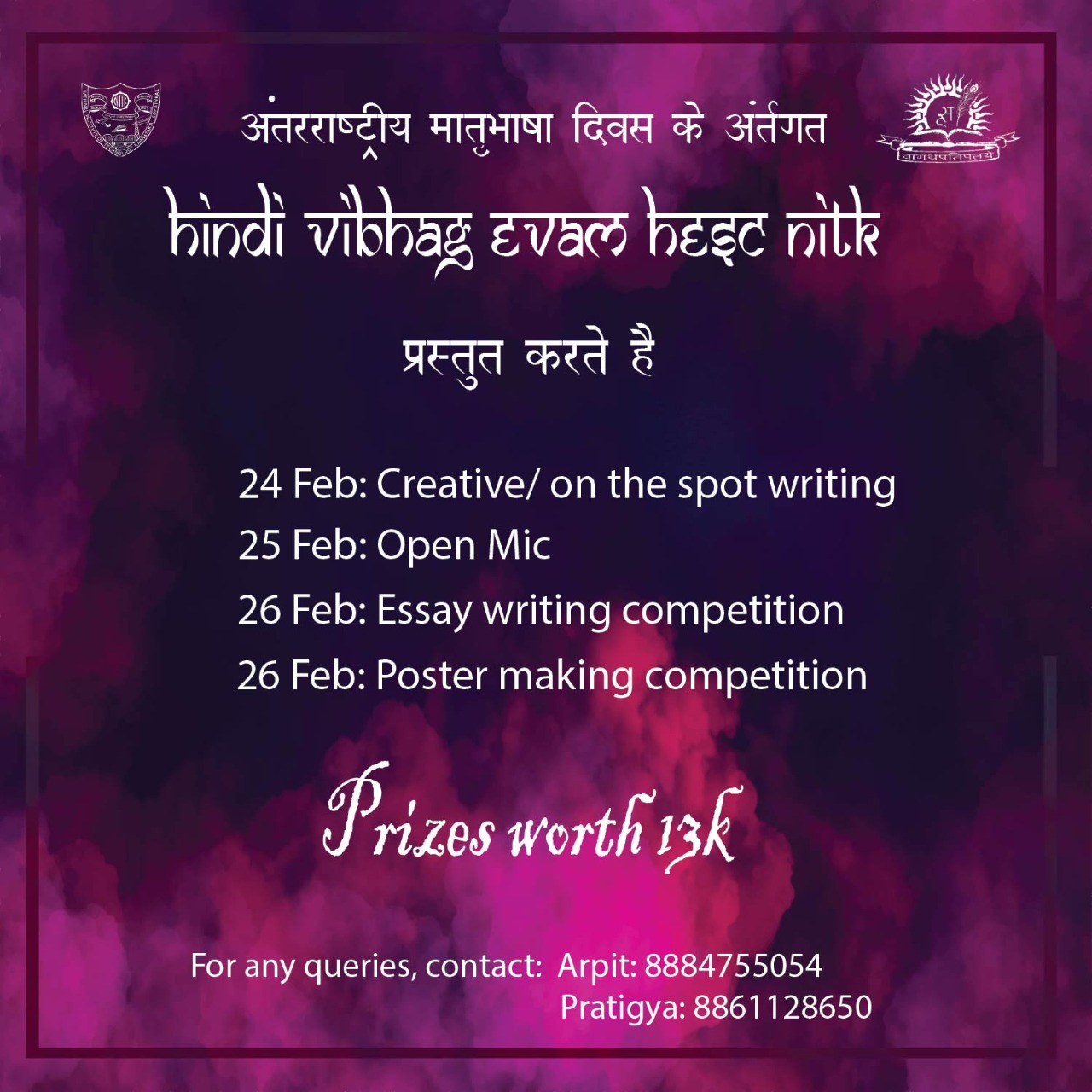 नमस्ते!
Greetings from HESC NITK
We are elated to announce yet another series of thrilling events, to commemorate 'International Mother Tongue Day'.🎊
Join us, as we pay homage to the wonderful amalgamation of cultures, that is our country- India!🇮🇳
Beware. Exciting cash prizes await you!🏆🥇🥈🥉💰
The events are as follows:
1. On-the-spot Creative Writing Contest📝
Date and Time: 24th February 2021, 6:00 PM.
Cash prize: Rs. 2000
A truly fun filled event, wherein you will be given a fun prompt for a speaking or a writing task. Interested candidates may join the meet link that will be dispatched before the event. The participant who gets the highest score, well…wins!
2. Open Mic Event🎤
Date and Time : 25th February 2021, 5:00 pm
Cash Prize: Rs. 4000
This one is for all the chatterboxes and singers out there.
Yet another platform to showcase your views and let the world know, what exactly is on your mind!
Each participant will be given a time limit within which he/she has to impress us with their eloquence. Be it a rendition, or a vehement monologue, we would love to hear it from you!
The participants may perform in English or any Indian language
3. Poster-Making competition🎨🖌️
Deadline: 26th February, 11.59 PM
Cash Prize: Rs.4000
Unleash your inner Picasso and create an online poster promoting any one of the following themes:
▫️Ek Bharat-Shrestha Bharat
▫️Unity in Diversity
▫️The Importance of Mother Tongue
▫️Women Empowerment
▫️Atmanirbhar Bharat
There are no restrictions on size or resolution of the poster!
Participants may submit their poster in the Google form below.
https://docs.google.com/forms/d/e/1FAIpQLSc61wr9ZerHhZyhgufIwf1rM51JdxswHl4hDpx1JN3dDogqEg/viewform?usp=sf_link
4. Essay-writing Competition
Deadline: 26th February, 11:59 pm.
Cash Prize: Rs 3000
Rustle up your quill and dust off your inkpots!
The perfect grand finale for this series of events. We invite you to participate in the essay writing competition. Choose any one of the topics from the given list and write an essay in Hindi or in English. No word limit. Brownie points for a fancy title!
The essay has to be submitted in the Google form mentioned below.
https://docs.google.com/forms/d/e/1FAIpQLSdNls0m6meD-dWUwNcOWk-jZAkElIChFV_u7zbvQ31m1CWrzg/viewform?usp=sf_link
◼️Importance of Mother Tongue(मातृभाषा का महत्व )
◼️Atmanirbhar Bharat(आत्मनिर्भर भारत)
◼️Importance of Mother tongue(मातृभाषा का महत्व)
◼️War and Peace (युद्ध और शान्ति)
◼️What is Feminism?(नारीवाद और समझ)
For further queries,
Contact :
Arpit : 8884755054
Pooja: 70195 94576
Registration form:
https://docs.google.com/forms/d/e/1FAIpQLSfsZDBNaTJEhlE4-JbMOr0SV14M0njiGEIkEZfl5QdMEKnG7Q/viewform?usp=sf_link
Kindly fill in the registration form, if you are interested in participating in any of the events!