Hacktoberfest NITK Meetup 2020
October 2, 2020 @ 6:00 pm

-

7:00 pm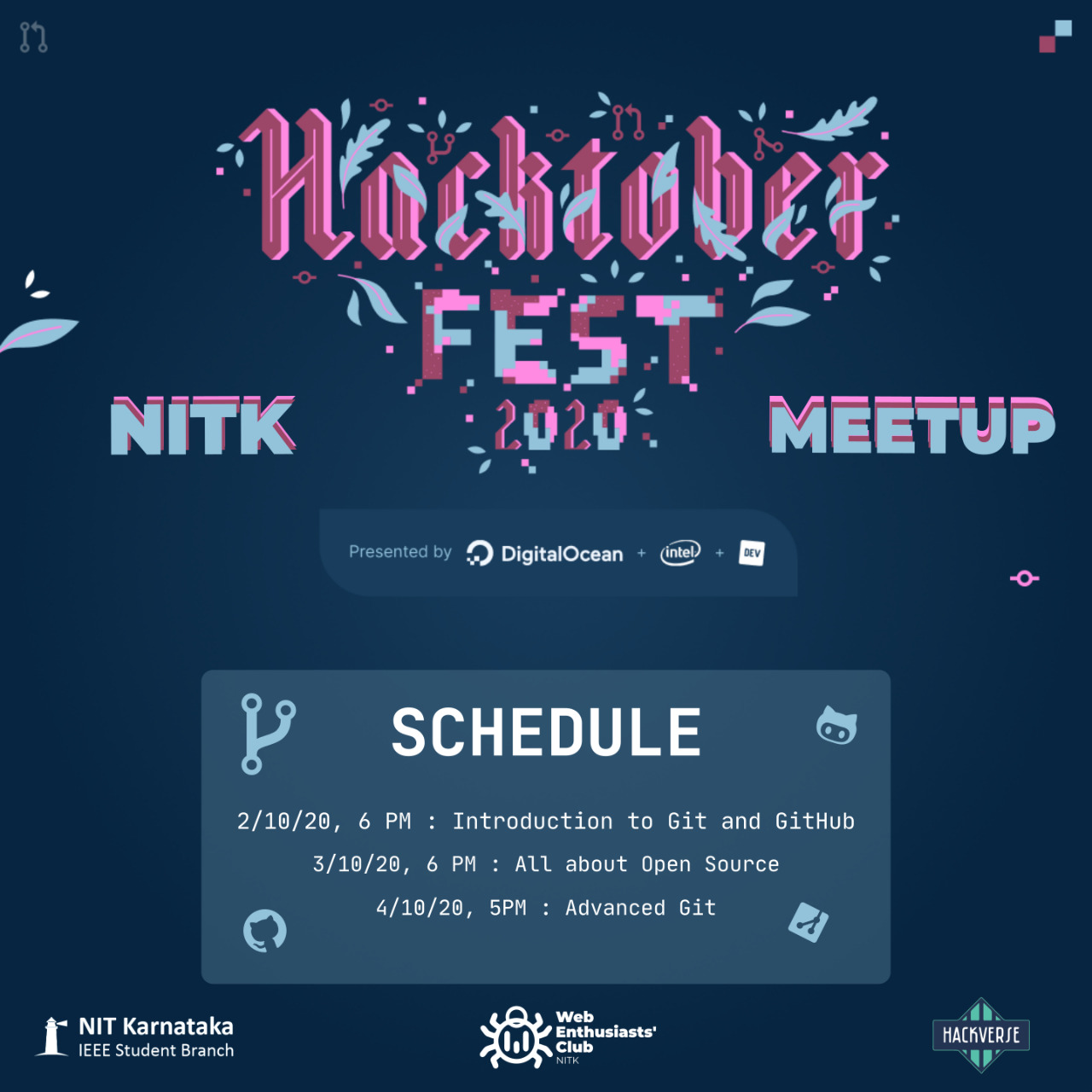 Want to know how to use git for version control and collaboration in your projects? How to leverage it for Open Source contributions?😯
Web Enthusiasts' Club NITK, IEEE NITK, and HackVerse NITK 💻👨‍💻👩‍💻present Hacktoberfest NITK Meetup 2020. As a part of the global Open Source Celebrations and the IEEE Week Celebrations, we have organized workshops on getting started with Git and Open Source, starting from 2nd October.
Exclusive Free T-Shirts 👕from Digital Ocean and stickers from GitHub await participants who complete 4 Pull Requests in the month of October.
We will be covering the basics of Git/Github on 2nd October for beginners, a couple of talks about Open Source contributions by experts from the community on 3rd October, and finally, we have a session on advanced Git concepts on 4th October.
Make sure you finish the following steps before coming for the event:
1. Register at: http://bit.ly/hfest-nitk-2020
2.Go through this link https://www.atlassian.com/git/tutorials/install-git and get git installed.
3.Also, do register on https://hacktoberfest.digitalocean.com
🏠 Check-in: http://bit.ly/hfest-nitk-2020
📅 Date: Friday, 2nd October 2020
⏳ Time: 6:00 pm
Open to everyone!
See you there!
Contact:
Krithik Vaidya +91 70304 24864
K Krishna Swaroop +91 94824 03590