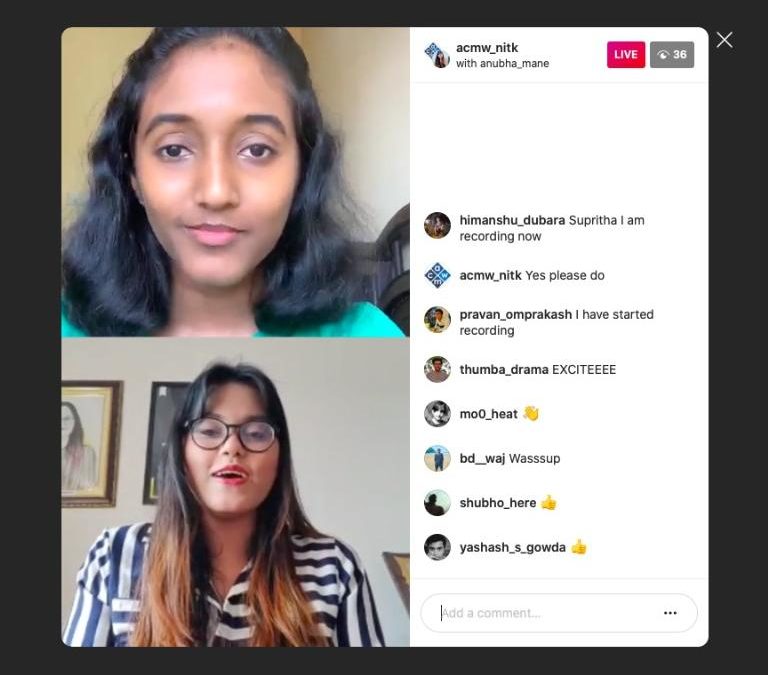 ACM-W NITK recently conducted an interactive session with the CEO of GirlScript, Anubha Maneshwar, on the 31st of May, 2020.
Laying the foundation of GirlScript in February 2017, Anubha Maneshwar did not ask for women in tech, but for equality in tech. Recently featured in Forbes 30 under 30 Asia list, Ms.Anubha has a long list of achievements and a bigger motivation to transform the quality of education within the nation.
Raising important questions against the education system, she guides students to seek knowledge and practical experience instead of competing aimlessly in a rat race. GirlScript was started as a simple project and it has now become a non-profit organization that has impacted over 60,000 individuals in 64+ cities of India. The foundation works by imparting tech education and relevant skills by online and offline programs, events and workshops. The chairperson of ACM-W NITK, Supritha Harishankar, hosted the interview, which was streamed live on Instagram. Anubha was asked multiple questions ranging from the representation of women in technological and educational fields, the new normals in work from home to the challenges and opportunities that these circumstances can provide. She considered every question and gave very thoughtful and meaningful answers derived from her personal experiences and lessons. Some of the important questions from the interview are mentioned below:
Question 1:
What is the one thing that is a must-have while making a resume? How do freshers apply for jobs, because they generally ask for experience?
– I caution people not to add unnecessary stuff on their resumes. Do not copy the career objectives of the company and show it as your own, it does not look good at all. Also, be mindful about the relevance of your achievements. Use standard templates that can be found in Google Docs, and be mindful about the job that you are aspiring for and customize your resume to highlight the aspects of the job that you would fit in. For freshers, I would say that you look out for what companies are asking for in a particular
job and you build your skills accordingly. There are some companies that will look at your existing work in the field than your degree. I believe remote jobs are the future, and more such opportunities are coming.
Question 2:
What would be the biggest challenge for the next generation of women in tech?
– As work from home is coming up, the number of domestic violence cases has increased. New-age women might have to take extra burden of home and take care of the family, in addition to enduring friction in their marital relationships because of spending more time together. They need to take care of their mental health to prepare for staying at home more and more. I personally have faced difficulties when the lockdown began because I was not accustomed to the situation. I can completely relate to a professional working woman who has to manage her home, children etc. Proper prioritization is required to manage all facets of their life and it is going to be a steep climb.
Question 3:
When it comes to idea vs implementation, which do you think needs more attention and why?
– 90% of startups fail because they believe they need a unique idea. This is not true unless you are inventing or discovering something. Customization of existing ideas is key. You should know your target audience, identify the investors, why you are building your startup, proper game plan and support from mentors. In my perspective, implementation is key, not the idea or even the money.
Question 4:
What do you think about the current representation of the women in tech? Howshould we encourage more women to enter the field?
– This might seem slightly conflicting for many people but why can't we look at this as people in tech, not women in tech? From my personal observations, I see women being isolated because of this differentiation. I think if we are reserving things for diversity, we should really check their background first. I don't support that a girl from a top-notch college with great grades needs a scholarship to succeed.
Question 5:
What is one aspect of the education system that you would like to change?
– Many people talk about changing the system, but most have failed to make a significant impact. I think it's better to build something that doesn't disturb the existing system. Parallel systems have to be built instead of just blaming the existing structures. I do not agree with many aspects in the current system but I have tried to build supporting structures that can enable education more.
Question 6:
Where do you see women in entrepreneurship in the next 10 years?
– I believe that many women are taking up social entrepreneurship thought I don't see many women in tech or education startups right now. I certainly do see the increase in the number of women taking up initiatives in the future, they are going to be a big force. I see a lot of potential because of the government initiatives and support being given to further their initiatives.
Question 7:
This pandemic has shown us that work/study from home is possible to an extent. Should we be actively looking into this area or go back to the previous normal?
– Definitely, one must look for a remote job, I cannot stress upon this enough. You are getting all the benefits that a full-time employee gets. If you are in a tier-2 or tier-3 city but have a laptop and an internet connection, you can still earn a lot. They serve as side hustles when you want to build your startup. I think we have to acclimatize to the new normal rather than trying to go back.
Question 8:
NITs/IITs are providing reservations for girls. What are your opinions on the matter?
– To maintain equality in institutions, sometimes reservations are required. They may be required for women too and IITs and NITs doing this is good. This reservation should be justified and I think many girls from semi-urban areas who have dreamt of getting into the top colleges have got the opportunity, so it is alright but in other cases, the reason has to be justified well. Reservations should target the right group of people.
To watch the whole interview, check out the link below:
About ACM-W NITK
ACM-W is an international organisation which supports and empowers women in all aspects
of the computing field. We at ACM-W, NITK chapter wish to inspire and nurture young minds
to step up and make a mark in the universe of technology. We are a thriving student chapter,
incepted in the summer of 2019. Our aim is to promote learning and create a workspace
where the ideas of young women can take shape and build the future. From providing a wide
range of opportunities to working in a larger community to advance contributions by creative
minds, ACM-W NITK aims to be a stepping stone for women to be celebrated and create a
difference.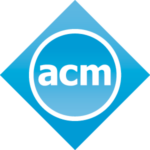 Brief Info: ACM NITK is a student chapter of the world largest educational and scientific computing society, the Association for Computing Machinery. At ACM NITK, we have five special interest groups - Sanganitra (specializes in fields including but not limited to Computer Vision, Software Development, Machine Learning and Big Data), Vidyut (specializes in fields including but not limited to Robotics, Power Electronics, Signal Processing and Machine Learning), Yantrika (specializes in fields including but not limited to Aerospace Engineering, Robotics, Automobile Engineering, Bio-Chemical Engineering, Structures and Materials), Kaaryavarta (specializes in fields including but not limited to Business, Finance, Economics and Marketing) and Saahitya (specializes in fields including but not limited to Literature, Philosophy and History). ACM NITK plans and organizes a wide range of events that include technical workshops, guest lectures, online events and various other competitions at NITK, throughout the year. ACM NITK also works on various projects to encourage learning and contribution to society.