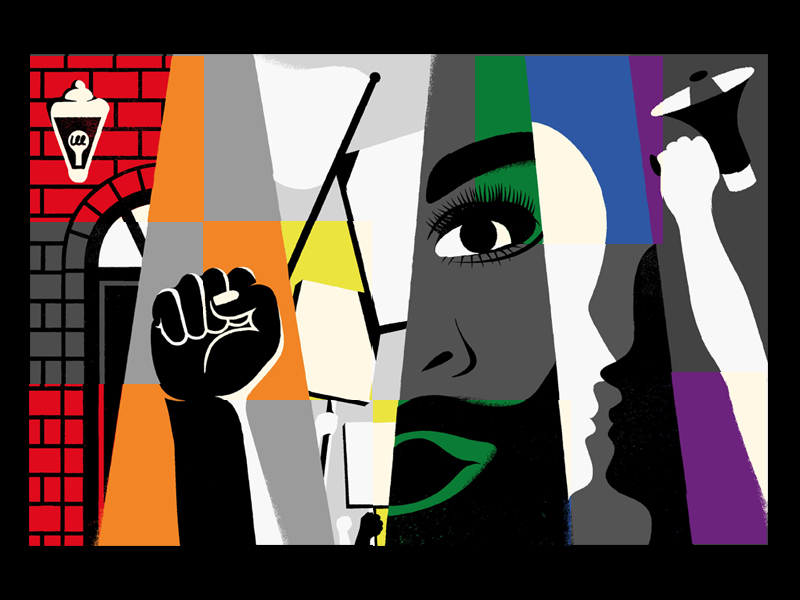 Pride month holds a special place in a lot of hearts. This year, June was overwhelming because of various reasons, yet the LGBTQ+ community did not complain or take away the attention from other important issues. But another surprise, this one being very pleasant, was seeing NITK doing it's part in spreading awareness and standing in support with lots of love and well wishes.
This is how NITK, for the first time ever, celebrated the month of June with pride. 🌈
NITK Spectrum
NITK Spectrum is a gender and sexuality resource initiative for NITK Surathkal.
Being the torchbearer, Spectrum collaborated  with multiple clubs, held competitions, organized several events themselves, and helped make this virtual Pride celebration a success.
Spectrum organized an online creative contest with the theme "A Prism for Queer and Ally College Stories" focusing on art, writing, and photography. To conclude Pride Month, Spectrum hosted a virtual Pride Party hangout to celebrate NITK Pride. The strong and positive response towards the Pride Month events highlighted that the students want to know more about the queer community and want to take steps towards being active allies.
Here's what the co-founders of Spectrum, Narendra Shivaraman(2018 ECE) and Aditi Chalisgaonkar(2016 EEE), had to say, 'NITK Spectrum aims to create awareness about the LGBTQ+ community and ensuring that queer students, faculty, staff, and alumni are included, heard, and supported. We work towards a future where all can thrive and lead their best lives.'
Shruti Prakhya, a part of Spectrum, says, 'Pride Month-2020 was an amalgamation of Spectrum's journey through the year and we're extremely proud to say that this is just the beginning. The unprecedented support from the NITK Student Community and so many of the clubs, took it from NITK Spectrum's Pride Month to NITK's Pride month. From the poetry to the artwork, from the quizzes to the surveys, from the panel discussion to the pride party, June has truly been a month we can never forget. We have a long way to go, but we've also come a long way! Celebrating who we are shouldn't be restricted to a day, month or year, it should be a lifelong observance.'
Rotaract Club NITK
Breaking the myths and deep instilled stigma, Rotaract helped spread awareness by laying out facts and figures. Sharing personal stories, holding Q&A sessions, and clarifying terms was also part of their initiative.
Vineetha Wilson, Director of Cultural Affairs for Rotaract, says, 'As a social service club, we knew our purpose in this collaboration was to educate ourselves on the meaning of Pride and to be a conducting medium between those who spoke and those who offered to lend their ears. We immersed ourselves in the learning process and focused on strengthening our allyship. Both Rotaract and Spectrum wanted to perpetuate our coinciding vision on the concept of inclusivity. Hence, we educated ourselves and others on the common misconceptions, both stereotypical and verbal, that the LGBTQ+ community is exposed to.
From the collaboration, we gained a thorough realignment of our mindsets towards the LGBTQ+ community, a paradigm shift on the inclusivity of the LGBTQ+ community into mainstream society and a stronger sense of allyship.'
The Literary, Stage and Debating Society
LSD held multiple events dedicated towards pride month celebration consisting of a zoom meet with prominent LGBTQ+ activists and icons, an awareness quiz held by the Quiz Sig, a British Parliamentary debate on the motion 'This house condemns commercialization and corporate participation in pride celebrations' held by the Debate Society, and some beautiful poetic works showcased by Lit Gig.
Nitya Kuchimanchi from LSD, one of the moderators for the event, says, 'The panel discussion held with Spectrum was a huge step in making the college more inclusive. Almost fearing a dismal turnout, we were pleasantly surprised by an audience of fifty very vocal participants. Our panelists included an NITK alumni, Sridhar Rangayan, who has brought about a revolutionary change in cinema representing LGBTQIA+ issues, Nirmala Menon, who has been a vocal ally inspiring inclusivity reforms on the corporate front and finally Mohammed, a student themself gave valuable input in bringing about reforms in colleges. The panel addressed a range of issues from encouraging allyship, resources for members and allies, the experience of a young, gay man in NITK  when the world was far less understanding, representation of the non English speaking Queer members and how we students can take significant steps to be more empathetic and inclusive. As one of the moderators, I had the opportunity to work on internal prejudice and inform myself on ways to be a proud, vocal member and on how to support other members of the community.'
Rithwik Rao, Joint Convenor of LSD as well as the quizmaster of the quiz, says, 'We kept a simple quiz of 20 questions without telling anybody that it was Pride related. It was an awareness quiz in collaboration with Spectrum which was wonderful because we learnt a lot of new things. There were about 20 teams that participated, consisting of a considerable number of people from the states as well. We also held a chill session after the quiz and we got amazing feedback too!'
Nikhil Varghese, DebSoc head from LSD, says, 'The Debate Society's members went head to head discussing the various pros and cons to corporate participation and commercialization. Side government's (the side that supports the motion) most notable argument was that commercializing pride would make it a movement only within the reach of the affluent and wealthy, when pride should be something anyone can celebrate. On the other extreme, we had side opposition contradict this stance by citing that corporate participation sets off a domino effect, that adds to making pride more accepted and normalized in society.'
The Music Club
With their soulful covers of legendary queer music icons' songs, the musicians of Music Club touched our hearts.
Linu George, a vocalist from Music Club, says, 'It was an honor to have been given the opportunity to shine a light on the talented LGBTQ+ artists that have made their mark in the music industry. These artists have excelled in the industry and used their platform to proudly represent their community and raise awareness about the same. Featuring six artists, their life stories and their identities, we paid our musical homage in the form of covers. The overwhelming response we got was the result of the sheer artistic brilliance of these legends. Their identities will serve a familiar figure to the everyday person in making acceptance a tad bit more achievable.'
Artists' Forum
Depicting emotions in every line and splash of color, one can't get enough of the brilliant artistry of AF.
Liz George from Artists' Forum says, 'The Artists' Forum in collaboration with NITK Spectrum, celebrated pride month by showcasing multiple creative artworks done by our members to honour the LGBTQ+ community in hopes to spread love and kindness amongst one another.
Our aim was to increase awareness regarding the community and to commemorate pride through art.'
IET NITK
The club proudly asserts their support with the Queer community in their article written in collaboration with NITK Spectrum.
Palash Agrawal, Co-Convenor of IET, says, 'IET NITK had a collaborative article with NITK Spectrum, authored by Feyaz Baker. The article focuses on how technology has helped people of LGBTQ+ community to get the rights they deserve. Quoting the author, "Pride doesn't end with Pride month", this article gives a strong message in support of the LGBTQ+ community.'
This celebrational unity in NITK definitely has paved a way for upcoming Pride events, but Pride isn't limited to the month of June. NITK has taken its first step in the walk towards a friendlier, happier and safer environment for everybody in the college. It's going to be a long walk, but if we do this together, it need not be a tough one. Here's to hoping for a better future full of love and pride, cheers! ♥️