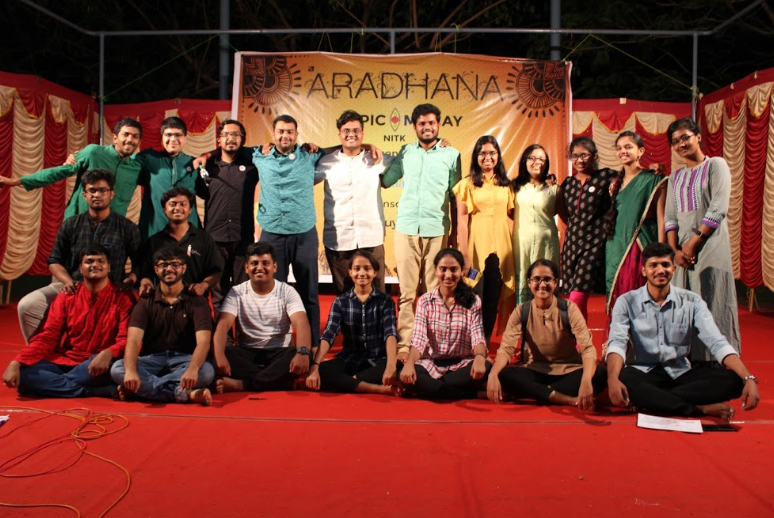 The Indian culture is described as 'Sa Prathama Samskrti Vishvavara' – the first and the supreme culture in the world. It is honoured as a divine culture. Today, when the country is undergoing rapid transformations on the cultural front and facing cultural diversion and adulteration – the influence of occidental civilisation and commercialisation has overshadowed the way of life of even those who extolled and acclaimed the rich cultural heritage of India. In these testing times, organisations like SPICMACAY are leading the battles of the survival and revival of our Indian heritage and culture.
Introducing SPICMACAY NITK:
SPIC MACAY (Society for the Promotion of Indian Classical Music And Culture Amongst Youth) is a non-political, nationwide, voluntary movement founded in 1977 by Dr Kiran Seth, Professor-Emeritus at IIT-Delhi who was awarded the 'Padma Shri' for his contribution to the arts in 2009. SPICMACAY intends to enrich the quality of formal education by increasing awareness about different aspects of Indian heritage and inspiring the young mind to imbibe the values embedded in it.
SPICMACAY NITK Chapter was started in 1987 under the guidance of Professor-Emeritus SG Mayya. Under the SPICMACAY NITK banner, the most accomplished artistes of the country have rendered programmes of Indian classical music, dance, folk, poetry and theatre. It also organises concerts, lecture-demonstrations, informal talks, workshops and seminars on Indian classical music, classical dance, folk music and art. These events are conducted with the hope that the beauty, grace, values and wisdom embodied in these arts will influence the way of life and inspire the youth of India to lead a more meaningful life.
Aradhana NITK :
Aradhana is a three-day annual cultural festival organised by the volunteers of SPICMACAY NITK Internal with the noble vision of promoting Indian Classical Music and Culture amongst school children. Many competitions including Creative writing, Elocution, Picture Art, Debate, Drawing and Painting, Collage making, all centred around Indian Culture and Music are conducted to quench the Kala thirst of the school children of Dakshina Kannada and Udupi districts.
Aradhana has been a successful initiative since its inception. Around 750+ children of the age group, 5-15 years participated in Aradhana 2020. The event was held on 31st January, 1st and 2nd February 2020 at the NITK Campus. This event painted a beautiful picture of happy faces and imprinted a wonderful memory in the minds of volunteers, parents, kids and spectators alike.
Little kids are masters of the moment—they love the way it feels when they smear paint on paper, how it looks when they sprinkle glitter, and even the soft sound a brush makes as it crosses the page. They are not self-conscious at this young age and have a sense of freedom to create and experiment like no one else. This spirit is tapped by the organizing committee of Aradhana by conducting events such as Fancy dress competition, Kalaabhiruchi (Drawing, Pencil Sketching and painting), Sandesha (story-telling), Kavana vaachana (Poetry recitation) and Kalaranjini (Hand and vegetable Printing) for the students of grade 1 to 4. (Category 1)
Kids in their middle childhood ie., tweens are able to use more logic, reason and deduction than a younger child can. Art and creative impulses in this age can contribute a great deal in shaping their personality. By manipulating a paintbrush, their fine motor skills improve. When children experiment with materials, they dabble in science. Most importantly, when kids feel good while they are creating, art helps boost self-confidence. And children who feel able to experiment and to make mistakes feel free to invent new ways of thinking, which extends well beyond the craft room. These kids (from grade 5 to 7) were hence involved by the Aradhana committee in activities like Sahitya Sindhu (Creative writing), Diya painting, Bhashika (Speaking skills), India Quiz, Kalaasiri (collage making), Varnanjali (Rangoli competition), Aakruti (Clay modelling), Mono acting, Face painting and Kalaabhiruchi (Drawing, Pencil Sketching and painting) which would greatly benefit them. (Category 2)
In teens, creating art expands the ability to interact with the world around, and provides a new set of skills for self-expression and communication. Not only does art help to develop the right side of the brain, but it also cultivates important skills that benefit a child's development. Art goes far beyond the tangible statistics measured by studies in influencing the life of a teenager. The students from 8th to 10th grade were involved in events like Indian Folk Painting, Sahitya Sindhu (Creative writing), Mime, India Quiz, Kalaasiri (collage making), Varnanjali (Rangoli competition) and Charcha (Debate competition) so that artistic instincts and creativity can become a pivotal mode of uninhibited self-expression for these teenagers.

These events for the children were conducted from morning till late in the afternoon. The evenings were reserved for concerts from budding artists all over, chosen to perform on this stage.
On the final day of Aradhana the efforts of all the participants were recognized in the form of prizes and certificates. Thus, Aradhana 2020 successfully served as a beautiful platform where talent was encouraged, developed and recognized!
A Volunteer's motivation :
Newton's third law of motion states that for every action, there is an equal and opposite reaction. Conversely, there is the law of "nishkama karma" which says that for every action in which there is no embedded expectation, there is a reaction that is far greater than the action.
Dr. Kiran Seth
Aradhana served as a platform for the celebration of talents unrestricted by the barriers of age or gender! It created a blissful experience for parents and volunteers who found joy in the smiles of the children. It left an everlasting impact on the minds of its young participants who discovered that participating in art, music, dance and other similar activities honed their developmental skills, both mentally and physically. It also enabled them to explore their own talents and bring them to the fore thereby succeeding in positively influencing lives.
A reader who muses herself with occasional philosophical thoughts.
A writer who enjoys beading her complex emotions with poetic threads.
An Ambivert who knows peace and wild at the same time.