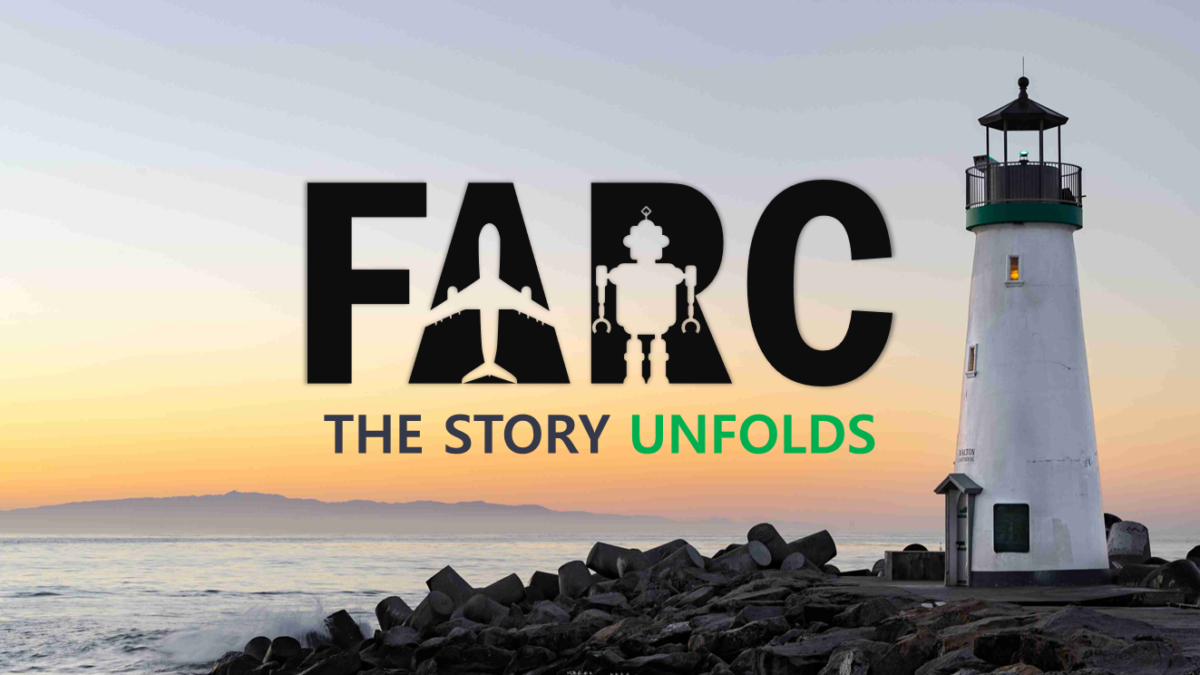 Working closely with objects from the ancient era is an absolute privilege, don't you think? You often find yourself wondering, "Who might have made that centuries old plane lying there in rusty ruins?", or "Who broke that boring old tile on the wall and more importantly, how?". What was the world like when I wasn't around? And what have these objects seen that I haven't and never will?
Unsurprisingly, we at Flying and Robotics Club (FARC) are a team of multidisciplinary members working on projects in various domains of computer science, electronics and mechanical engineering, seemingly everything under the sun! The aim of our club is to encourage college students to take up projects in the field of robotics to meet the immediate needs for automation in today's world. Also, the club promotes an interest in the field of aeromodelling as a hobby for anyone who's looked up at the sky, glanced at an airplane and found themselves beaming with unexplained joy and curiosity, or spent hours trying to decipher the nature and origin of a UFO they were convinced they saw that one night when they went camping. As a part of the college fest Engineer, Wright Flight, a competition is held every year where people from different colleges design, build and fly remote-controlled planes and make their dreams take flight in real time.
But, today we aren't going to talk about "yet another technical club" on campus and its related jargon for you to roll your eyes at, but about it's fundamental origins and its wild, wild history, down memory lane and maybe even give you a sneak peak at what the sky up there holds for our future.
Down the Memory Lane
The origins of the club go all the way back to the early 1970s when a group of aero enthusiasts came together to form a team that would eventually become a recognized club in 1972. The flying team back then wasn't building the planes we build in FARC today but used to work on "control-line" planes which were quite unheard of and caught all eyes back then.
Soon, with the early advancement of technology in the 2000s, a robotics club was formed whose main goal was to take part in the "RoboCon" competition that was introduced fairly recently in India. Both the Flying and Robotics teams were independent bodies. While the Flying SIG kept building its arsenal of planes and projects, the Robotics SIG worked on RoboCon alone. But it wasn't until early 2015 that the idea of promoting robotics and flying in the campus brought the two teams together and we saw a grand merger that opened up an avenue for a billion new possibilities!
The convenors of both the clubs decided to form a new club, a club that would conquer the tech competition that was slowly developing with the growth of exclusive clubs in NITK. And lo and behold, there came into being a new club that we know today as "Flying and Robotics Club". But that was far from the end of the story.
Later in 2017, due to increasing workload and the sheer inability to manage a hobby club while participating in RoboCon alongside, a separate team was formed for Robocon under CSD – Centre for System Design, NITK. Since then, FARC has been striving hard and successfully aiding robotics and flying enthusiasts to realise their true potential.
Hey braggart, come on in!
"With great power, comes great responsibility" – Uncle Ben (Spiderman)
This grand merger required a strong core team to step in and manage the club dynamics, to motivate the team, and to conduct events such as the celebrated Wright Flight. The club was then split into 4 special interest groups – 
Comps –

A group of Computer Science enthusiasts specializing in fields ranging from basic Machine Learning to the more sought after Robotic coding.
Electronics –

A group of Electrical and Electronics enthusiasts specializing in fields ranging from basic electronics of machines to the more complex PCB designing.
Mech –

A group of machine lovers who specialized in machine designing and building.
Flying –

A group of flying enthusiasts who designed and flew planes ranging from simpler remote control variants to fuel-driven marvels!
These SIGs were renamed in 2019 to RoboCode, RoboTronix, RoboTorque, and AeroWing respectively to reflect on the team spirit the club had shown ever since the merger.
Over the years, FARC has accomplished feats that a hobby club like us could only imagine. Here are some of the interesting projects in the lineup. Read on!
The Snake Robot –

A wireless controlled robot which was custom designed and fabricated using 3D printing technology at the Centre for System Design (CSD). The robot is capable of mimicking a snake by performing gaits like serpentine, sidewinding, and caterpillar.



A glimpse of the final product –


The Robotic Arm –

This project was aimed at industrial applications. The manipulator was built using Laser Cutting technology. The arm was controlled by ROS – Robot Operating System and was simulated using Virtual Robot Experimentation Platform Software.





Simulation preview –
The Drone Quadcopter Project –

The aim is to develop a drone that provides benefits ranging from surveillance, mapping, monitoring; to casualty or fault detections in regions where some catastrophe has struck. This build will help increase the scope for development and disaster management, all in one project.





A glimpse of the drone's design –



We've got more to show and complete, and would love to have you aboard this mission!
Beyond the Blog?
"Technology, like art, is a soaring exercise of the human imagination." – Daniel Bell
Just last year, FARC saw the emergence of 2 new groups, the DigiMedia SIG and the WebDev Team. While DigiMedia worked on expanding our reach on and off-campus, the WebDev Team has built an impressive website to portray our work and experience! Follow us on our social media handles if these projects interest you. Stay tuned for the website unveil and recruitment notice for the year 2020-21.
Thanks for your interest and time!