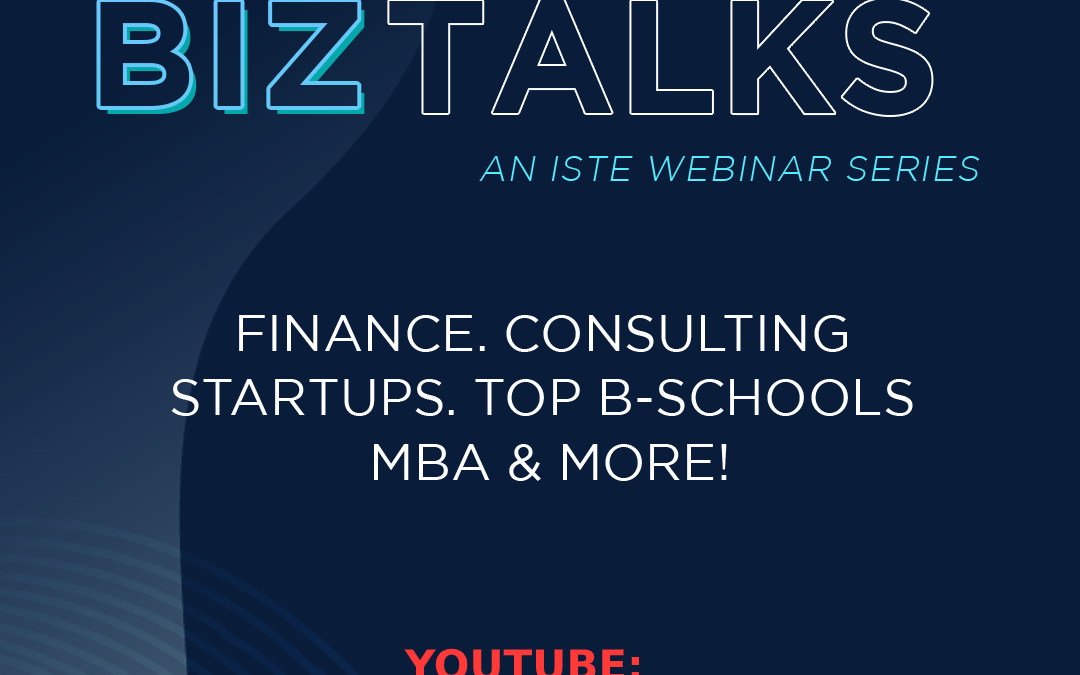 "Inspiration awakens us to new possibilities by allowing us to transcend our ordinary experiences and limitations".
– Scott Barry Kaufman
Inspiration gives us both the means and the motivation to rise above, be creative, grow closer to our goals and value experience. And especially in hazy times like these, the right guidance and stories are what can help us tread along a path suited to our abilities and aspirations.
ISTE's Business SIG, Credit brought out BizTalks, a series of live interactive webinars spread over a span of 3 days which were quite the buzz. Eminent speakers and professionals spoke of their incredible experiences and put forward their journeys for the viewers through the course of the interviews. They answered questions on the different Business Schools, the admission procedures, MBA, MIM, MEM programs, Business Analytics, the do's and don'ts of choosing programs, entrepreneurship, and a lot more.
Day 1
The first day marked the beginning of the series with Mr. Kailash Neelakantan as the first speaker. Having scored an incredible 760 on his GMAT and having graduated from the Chicago School Booth of Business, Mr Kailash Neelakantan answered questions about his journey starting with the transitioning of the shift in his stream of studies from Engineering to Finance. He provided key insights into MIM programs from European B-Schools talking about how they provide a similar career progression in the long run when compared to an MBA. He proceeded to speak of how his various job profiles contributed towards him pursuing an MBA. On being asked about Chicago Booth, he talked about his life changing experiences at the B-School including attending a panel having Satya Nadella and studying under the renowned Douglus Diamond. Having followed Raguram Rajan's career throughout to currently working on a project with him, Mr Neelakantan is living his dream. He emphasized on the importance of reaching out, leadership and aggressively pursuing one's goal.
Link to the webinar: https://www.youtube.com/watch?v=0IrgvHJAT8M&t=22s
Linkedin profile: https://www.linkedin.com/in/kailash-n/
Email Address: neelakantan.kailash@gmail.com
Day 2
The speaker for day 2 was Ankit Chaturvedi, the co-founder at Qwickpay who started the closed-loop digital payments company after the completion of his MBA from IIM Bangalore in 2020. He spoke of his journey and strategies that he employed to have been able to crack the extremely competitive CAT exam and secured a 99.85 percentile score. He explained the reason behind his choice of IIM-B from an entire list of the top B-schools in India. Having interned at top firms such as Haldiram's and Deloitte and also having worked as a Business Analyst at Grofers , he talked of how the experiences gave him the right exposure to understanding various marketing and budgeting sectors globally and domestically helped him polish his consultancy skills which in turn helped him with his startup. He moved on to answer questions on entrepreneurship in general and also addressed the impact of the ongoing Covid-19 pandemic on the Business World. He stressed on the importance of good planning and framing of any startup's rules, regulations, policies and business reforms to minimise risks and losses due to any unforeseen or unavoidable circumstance.
Link to the webinar: https://www.youtube.com/watch?v=91J49yGYmZM&t=2s
LinkedIn Profile: https://www.linkedin.com/in/ankit-chaturvedi-39a754ba/
Email Address: ankit.chaturvedi18@iimb.ac.in
Day 3
The speaker for the third and final day of ISTE NITK's BizTalks was Mrs. Nistha Tripathi, the founder and director of India's leading study abroad consulting company- Scholar Strategy and the author of the bestselling book on Indian startups – No Shortcuts. Having studied Computer Science at the University of Illinois, Urbana Champaign and also having attended NYU Stern for an MBA program( which she of eventually dropped out), she spoke of her experience studying abroad and tagged the US as the best place to do a masters for reasons including diversity, the quality of teaching, exposure, curriculum and ROI. She spoke of potentially good MEM and MIS programs offered by different universities. She also addressed topics such as career prospects in different countries, the need for introspection before making a career choice and resume building. With a final lot of questions from the viewers and some insightful answers by Mrs. Nistha Tripathi, the session ended.
Link to the webinar: https://www.youtube.com/watch?v=lsWkZuwF1nc
LinkedIn Profile: https://www.linkedin.com/in/nisthatripathi/
Email Address: nistha@scholarstrategy.com
And with that the 3-day long ISTE BizTalks 2020 officially came to an end.