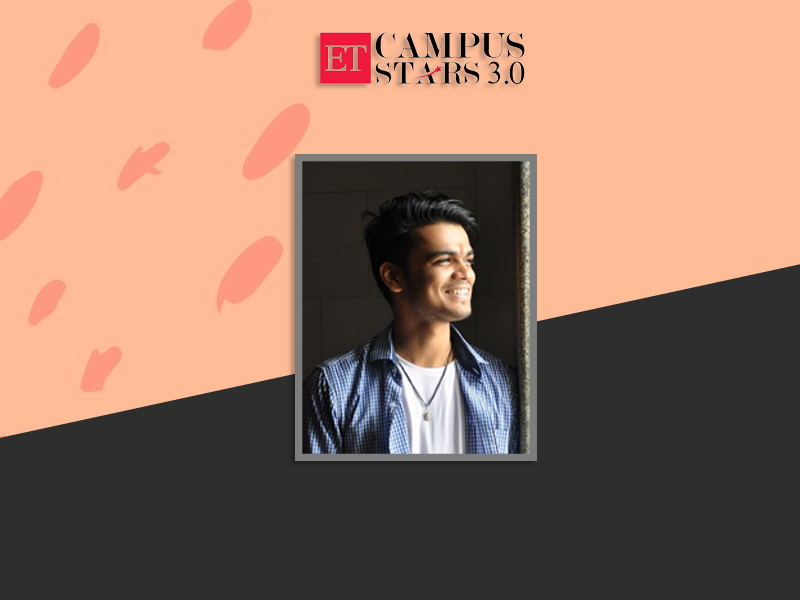 ET Campus Stars (ETCS) is a competition conducted by the Economic Times in order to identify the brightest engineering students in India through a series of online and on-ground assessments. The third edition of ET Campus Stars was launched in September 2019. The four-phase program received 49,000+ registrations of which 104 students were selected for the list of ET Campus Stars Class 2019-20. One such Campus Star is Ankur Singh, a Final Year BTech student of the Department of Information Technology. We sat down with him to learn more about this achievement.
So firstly, what is the objective of ETCS and what is the eligibility criteria? What made you apply?
The objective of ETCS is to identify students who will excel in a corporate environment. The competition is designed to identify those students who not only have good technical knowledge in their respective branch but also work well in teams and have good leadership skills.
ETCS is open to any BTech second, third or final year student. There were nearly 50,000 registrations this year, with students from IITs, NITs, BITS and other engineering colleges taking part. Those I encountered in the 3rd round of the competition were all highly confident and motivated individuals, involved in either running various college clubs or their own startups as well.
I applied for ETCS without any fixed objective. I got to know about it through an email forwarded by the Internship Coordinators (ICs) from the Career Development Centre (CDC) and since I usually register for events that the ICs send like hackathons, quizzes and so on, I decided to register for this as well.
An added benefit that I got to know later was that as a Campus Star I would get recommended for a job with any of the sponsors of ETCS.
What were the various rounds that you had to clear in order to become an ET Campus Star? Is there any preparation needed?
There were a total of 4 rounds.
Round 1 was an online MCQ round with questions that were case study testing our ability to take the right business decisions. The MCQs also focused on English and recent technological advances.
Round 2 was similar to Round 1 but with a greater number of questions.
Round 3 was an onsite round held in the Economic Times office in Bangalore. A total of 60 students were selected for this round, which had 3 different activities on which we were evaluated
The first was an online MCQ test solely based on case studies and the decisions I would make if I was in a similar situation.
Next was a Group Discussion with standard rules, with topic being "Is mathematics really required for doing good in engineering". I love maths so naturally I was in favor of it.
Based on the GD results, team leaders were chosen for the final activity. However I wasn't chosen as a team leader probably due to my English not being very good.
For the last activity, each team had 6 members including 1 team leader. The objective was to make the best possible sequence using the 10 cards which were given to each one of us. It was similar to poker. The students could exchange their cards internally within their team without any constraints and with students of other teams through their team leaders. In the end, out of the 6 members in my team, 2 people (including me) got the second best sequence and 3 people (including my team leader) got the third best sequence. After a few days, we got the results – my team leader and I were selected for the final round.
The final round was an interview with Dell India's CEO Mr. Alok Ohrie. It went smoothly and I got selected as a Campus Star.
I would say there's no specific preparation needed. Just be yourself, have an interest in technology and try to manage your project teams and clubs well.
How did it feel being interviewed by Dell India CEO Mr. Alok Ohrie?
The interview was held after the lockdown started, so it was online. I was excited rather than anxious as I felt happy that ETCS had given me the opportunity to interact with a person who has reached the top of his field.
The biggest surprise was that Mr. Alok is a NITK alumni. So the first 5 minutes was just us discussing hostel life at NITK. Then he asked me a few questions related to my previous hackathon experiences and the projects I had done till then. He also enquired about the internship that I was yet to start. He then finished the interview by asking about my achievements and a few HR questions.
Alok sir was very calm and had this charming vibe which made the interview process very comfortable for me. Once it was over, I asked him about his journey post NITK and what it takes to reach a position like his. While sharing his story, he didn't just say something generic like keep working hard. A great takeaway from the conversation was that it's okay to take risks and not always play it safe.
What did it take to get to this stage?
My story is one of ups and downs.
In 12th standard, I decided not to apply through OBC quota as I had the same facilities as all my friends and this way the seat could go to someone who needed it more.
I got around 3k rank in both JEE Mains and Advanced while my friends got under 1k rank and joined IITs. I decided to join NITK and was initially under the impression that I would be some sort of genius here as I had a very good JEE Advanced rank.
That delusion of mine was shattered in the first semester itself. Despite being in the IT branch, I failed the C lab course due to which I had to come to college for the makeup exam on my dad's 50th birthday.
From being in that situation to interning at Amazon this year, it's been a great journey.
Sadly, I failed to get a PPO from Amazon, and I'm now preparing for placements.
Not all stories are about constant rise. Some alternate between highs and lows. Mine is one such story and I thought I'd share it in order to help anyone out there who's currently dealing with similar issues.
What advice do you have for those seeking to be an ET Campus Star?
I don't have any particular advice as such.
Pursue the branch you are interested in. Manage your team well. If you have a team under you, be a good leader by encouraging everyone and helping those who are in need of it. Tutoring school students under KREC mentorship, being a part of the corporate hospitality team of Incident and playing a lot of sports have helped me become a team player and understand the importance of putting the team before myself. Also, take part in hackathons and coding competitions, they really help improve your skills.
ETCS basically identifies the uncommon individuals, so don't just do what others are doing, do what you feel is right for you.