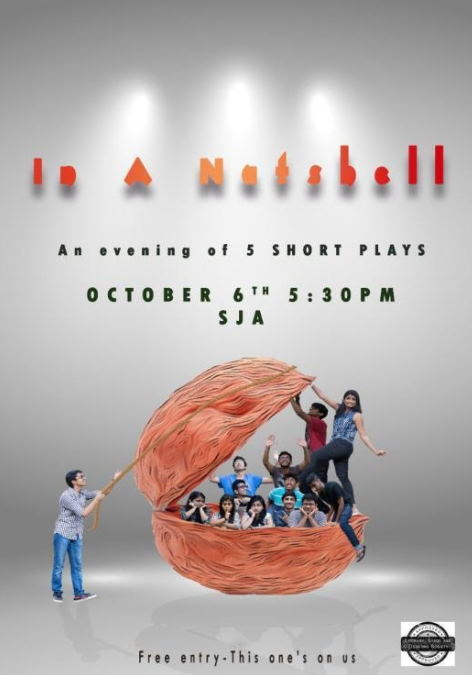 'In A Nutshell' is a series of five short plays held in the odd semester by the Literary, Stage, and Debating Society. The plays are selected from a variety of genres, languages, and forms. The organizing team is divided into three divisions: the cast, arts and production, and media and publicity. These roles are taken up by students across years and departments.
We sat down with Joshua D'Cunha, the co-Play Coordinator of the Stage SIG, to learn more about In A Nutshell.
How did In a Nutshell come about?
In A Nutshell began in the odd semester of 2016. Ameya Koushik, a final year and my first director, had this idea to present a series of short 10-minute plays. By having these short plays, we're compelled to immerse the audience in the plot immediately and with five of them we could present plays from a variety of genres and forms.
I joined college in 2016 so I was fortunate to be a part of the first edition of Nutshell. Besides this, there weren't a lot of avenues – with the exception of the Rotoract Charity Play – to explore drama and theatre so I was excited to be breaking new ground.
You've been with In a Nutshell since the very beginning. How has it evolved over the years?
As of now, Nutshell has performed twenty plays. We've had funny plays, sad ones, plays with a twist and ones that make you think. I remember our first edition had a monologue in Urdu! Our characters have been cowboys and detectives, terrorists and psychopaths, lawyers and village idiots. We're always trying to push our limits and outdo the previous edition. Last year, we were able to have our first ever musical!
Besides showcasing different forms of theatre, why hasn't Nutshell presented plays in different languages?
That's a great question! While we have presented two Hindi plays in the past, a majority of our plays are in English simply because our directors are more comfortable in interpreting English scripts and directing English plays. We have tried to tweak some of our scripts to make them more relatable to the audience but that can only go so far. We are definitely open to having plays in different languages and I hope Nutshell will attract some budding multilingual directors who can deliver great plays in languages besides English.
Most of us only see the finished product on the day of the event. Take us through the Nutshell process from the start to the curtain call.
Nutshell works like this: the directors sit down and discuss the plays to be performed. We've usually spent the summer reading scripts online so when we return to college in the odd sem, we already have some ideas for which plays to present. We try to be as inclusive as possible, in terms of language, genre, and style. Once we've selected them, we email the playwrights for permission to perform them. Usually they reply positively when we say it's not for profit and it's to improve the theatre scene in college, both of which are true, by the way.
Once that's done, we hold an open meet where we explain what Nutshell is. There's a lot more to Nutshell than people realize! We have different divisions they can be a part of like arts and production, media and publicity, and of course, acting.
Once auditions for the roles are held and we've selected our cast and crew, we schedule practices. This is, and I'm sure my other co-directors will agree, the most difficult part of Nutshell. Because we're such a diverse bunch from different years and different departments, it's difficult to settle on one time that works for everyone. But really that's the best part of Nutshell: a whole group of people sacrificing their time to work on something they're passionate about.
It does sound like a lot of effort and commitment is required. How do you blow off steam and ensure the team is not burnt out?
Well we try to have fun with whatever we're doing and that's not difficult since we all voluntarily sign up for this! Directors usually engage the cast in games to break the ice and improve their acting. My favourite game, by far, is Zoof. You have to be loud, clear, and quick on your feet and all these definitely apply to acting. Besides games, we've also attended plays held by other colleges to understand how we can perform better in our different roles in theatre. And play dinners at Red Rock definitely improve the bonding, especially if the bill is being paid by someone else!
Tell us about the actual day of the event. How does it feel to be putting on a show for the entire college?
The day of the event is the most hectic one, of course. Directors and actors are scrambling for last-minute run throughs. The production crew is making their final touches on the props. The media team is taking a video of the whole thing for behind the scenes footage. As the co-coordinator, I'm running helter-skelter making sure everything is in order and everyone is in place. It's an electrifying feeling when at last, the lights dim, the background music plays and the audience watches this baby we've been nurturing for the past two months.