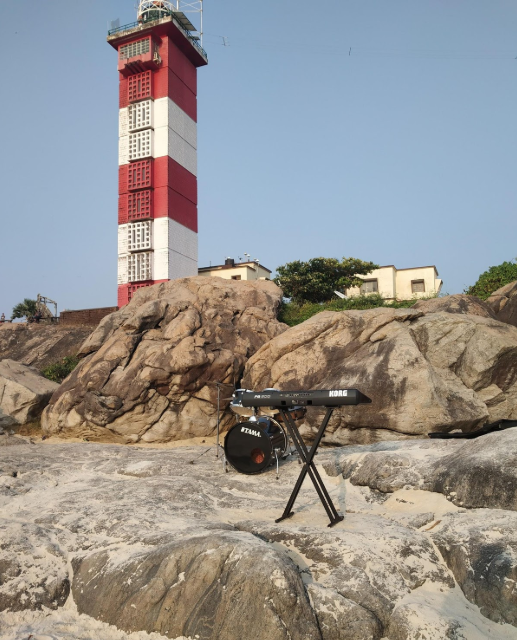 Introduction to the Interviewee :
S Rajamani Ayyer is a 3rd year BTech student from NITK who's played a pivotal role in the making of the Incident 2020 Music video. He worked with the team as a composer, musician and music producer. He composed the theme song for convocation 2019 and has also recorded music for the LSD short film spoken word club and many such projects.
From the first frame to the last, music videos serve as a blank canvas to your mind's eye, a place to show the world what musicians can really do when let loose. This interview gives us an insight on the background work that goes into the making of a music video and how to achieve an end goal of good promotion and outreach. It guides the readers about the challenges one can expect in such undertakings and how to break free from them.
1. What was the primary motive behind undertaking this project?
The music video starts off by showing the life of a NITK student through the eyes of it's reminiscer. We intended to capture glimpses of happy college memories through this music video to celebrate the nostalgia associated with them. The idea behind this project was to bead all the cherishable memories of NITK Life together and present it to the audience to leave a strong imprint of Incident 2020 in their minds. An imprint so heart felt that it would stay with all of us for a very long time.
2. Having been a part of many such music projects, what aspect of this project according to you sets it apart?
We usually record and produce cover songs. We rarely get the opportunity to do our original compositions. This was a rare opportunity. We have also done last year's incident theme song, echoes of the orient, but then we were very restricted to a rather narrow theme, and faced some time constraints. We were given a theme this year too, but we had freedom with the way we wanted to compose the music and had plenty of time for the entire process.
3. Can you introduce your team that made this project a grand success?
Starting off with the music club convener, Nikhil Govindarajan led the project, coordinating with the Inci team. The lyrics and the vocal melody of the whole song was given to us by Vishweshwara PS, who completed his PhD from NITK this year. The music was composed by me (Drums and keyboards), Nikhil Govindarajan (guitars), Samarth Katiyar (guitars) and Joshua Nesan (Drums and bass guitar). Lead vocals were done by Bhargav SS, backing vocals were done by Lakshmi Pradeep. Mixing and mastering were done by me, Rohit Handique and Anirudh Prakash. All of us are members of NITK Music Club.
The entire process was possible thanks to CSD NITK, where the recording, mixing and mastering was done.
Beyond the music aspect of it, a number of people were involved in the production of the music video, with a dedicated dance team and video team. People were also involved in the logistical side of things and greatly streamlined the whole shooting process.
4. How important is team dynamics in such endeavours?
As the saying goes "No one can whistle a symphony. It takes a whole orchestra to play it", similarly this project wouldn't have been possible if not for my amazing teammates!
Team dynamics play a vital role in the efficiency of the whole process. In projects like these, the amount of dedication contributed by every single member counts. Musical talent is very important, but this alone won't be enough to deliver what's envisioned. There would have been hindrance to progress if any of us went home or even went to parties during jams or recordings; but most of us prioritised this and hence could come out strong as a team. Even if such circumstances arose, it was made sure that the remaining members filled in for the absentee. The team was selected keeping all these factors in mind.
5. In Benjamin Britten's words "Composing is like driving down a foggy road toward a house. You slowly uncover details of the house – it's colour, shape and everything". How did you go about uncovering these details?
Oh, this is very true! We first worked on the general structure of the song, then decided the chord progression, the tempo of the song, when to include the guitar solo among the other finer details and such aspects. Vishweshwara, who was not on campus at the time of recording, gave us a clear picture of what he had in mind when he was working on the lyrics and that gave us the direction we needed to work on to create the general structure of the song. Once a basic skeleton was set, we went about filling up the song by adding backing vocals, bridge etc. After recording all this, I added more keyboard tracks to make it sound fuller. Then came the creative process of mixing and mastering. It certainly was a foggy road for us, but as we worked our way through, the house started becoming clearer and clearer.
6. In the song, after the guitar solo during the beach shots, the music genre suddenly changes to a reggae inspired bridge. How did you come up with that?
The song till the bridge is upbeat and happy, reflecting the mood of the college during the fest. For the bridge, we decided to showcase arguably the best part of our campus, the beach. We agreed to change the vibe of the song in this section and go for a more laid-back feeling. We felt that the best way to incorporate all this was to go for a reggae sound. We came up with a melody for the bridge. But we still had to make a transition from this reggae bridge to the ending. We accomplished that as well thankfully and completed the slower final chorus. The dance shots were synchronized with this section. This entire reggae-ending buildup is my personal favourite section of the song.
7. When did you start recording the song? Give us an insight into the experience!
Vishweshwara began working on the song early in the odd sem and had a basic verse ready by the end of the odd sem 2019. The music work began in the even semester 2020. We started recording during the third week of Jan. The facilities in the recording studio at CSD are very superior compared to how we jam at the music room, so we tend to mess around more, rather than focussing on our objective. One of our challenges was to make sure that our recording sessions were focused.
8. Music Club is known for its jamming sessions. How was the process of recording for Incident 2020 different in comparison?
There is a massive difference between jamming in a room and recording ideas in a studio. While jamming or playing for MC night, a mistake gets easily unnoticed. Recording is like a magnifying glass to our music, everything sounds way too clear and we have no room for mistakes. Everything has to be under a perfect tempo and pitch. We used Logic Pro X software provided by CSD to record which is one of the best Digital audio workstations to work on.
Unlike normal jams where we play every instrument together, we individually recorded each instrument. The four of us(who composed the music) used to play one bass, one guitar, one keyboard with one vocalist and a drummer during jams. But in the recording of the song, we did three guitar tracks, at least five keyboard tracks and six separate vocal tracks and layered them together to improve it's sonic flexibility.
9. How crucial a role does mixing and mastering a song play in its overall production?
Generally, people think that mixing and mastering involves just adjusting volume levels of each component in the song, but there are a lot more important processes involved in mixing and mastering: Panning, Equalizing, Compression, Reverb, Delay, Saturation etc and each process is a vast one with a unique significance. Each one of these processes were applied on every single track that we recorded. Me and Rohit Handique spent at least 12 hours daily for a week dedicated towards mixing and mastering. You can compare mixing and mastering to cooking. Listening to an unmixed track is like eating all the components of the food raw. Only a perfectly mixed and mastered piece can bountifully content our heart.
10. Challenges make every journey more exciting and fruitful. What are the challenges you faced during this endeavour and how did you get through them?
We faced a lot of challenges in this adventure. Every one of us had our own idea of the song structure and it was difficult to come up with a final procedure. Sometimes, I personally felt that we were lacking progress after a few jams. We had to ask Vishweshwara for a new vocal structure for the second verse to support our music. Initial recording sessions were completely unfocussed and I felt like giving up on the project. We also had to re-record bass guitar because initially it was masking other instruments in the mix. We faced a lot of technical issues while mixing on our systems, so we had to scrap the first mix and I started mixing all over again on the system provided by CSD. Me and Rohit Handique missed classes, labs, even our lunch sessions to make sure there was no delay from our side. Since we had been using the bass guitar for recordings, the other music club members had to practice their songs without it for acoustic night. Moreover, our reputation was also on the line.
For video shoots, we had to carry all our instruments including the drum kit for video shoots around the campus and even to the beach. We couldn't afford delays while shooting, because the lighting of our shots depended on the time we started shooting the video. So it was a stressful journey indeed, but I made it as enjoyable for me as possible!
11. How was this experience as a whole for you personally?
Overall it was a lot of fun for me. I shared a lot of laughs with the entire team. I still have some mistakes recorded just to tease them.
For the first time in a recording project, I added orchestral sounds and effects in the song. Also, I recorded with Lakshmi Pradeep for the first time!!!! I learnt a lot in mixing and mastering from Rohit and Anirudh who worked tirelessly with me to produce a good output. We connected a lot through music. The chemistry that we developed in the entire process is unbreakable. All of us are very proud of what we achieved in this entire process. Every one of us are extremely thankful to all those who listened to this track and appreciated the efforts that went into its making. This was indeed a journey worthy of all that came after it.
Here is the youtube link to the music video:
A reader who muses herself with occasional philosophical thoughts.
A writer who enjoys beading her complex emotions with poetic threads.
An Ambivert who knows peace and wild at the same time.