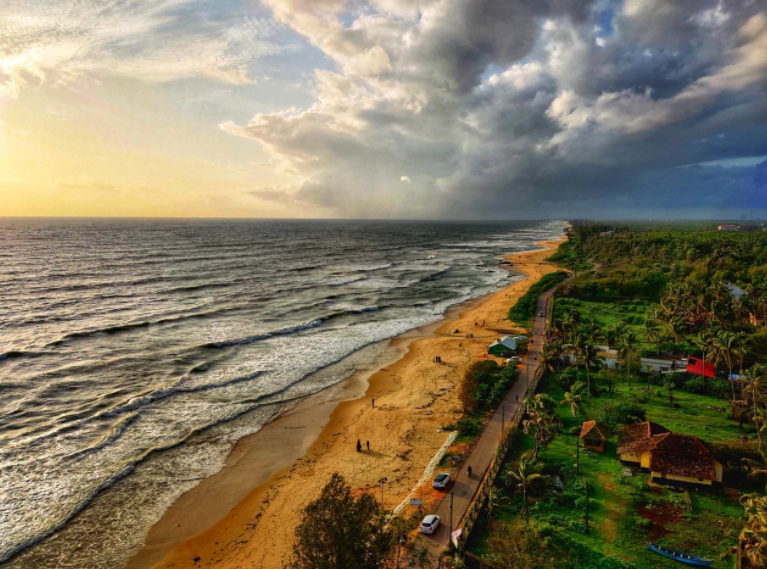 1)Beeeaaaacccch please- our very own Nirvana
2)Events- it's almost time for Dandiya night again and we can't dress up and go chogada thara all night
3)Walks and runs in and around the campus
4)Co-ops, Nandini, Reddys, Amul, Ocean Pearl, Samudra Darshan, Red rock, et al
5)Beloved Hostels, what's happening in my empty room? *panics for the 16266th time
6)Snakes and those gross reptiles which we all have crushed at some or the other point. RIP crawling soldiers. Also cats and dogs and peacocks.
7)Mess food, Grand dinners, ice cream tokens, the utter rejection of not getting a 2nd gulab jamun, the heinous scam of Badaam milk, the NC visits after a long hectic day.
8)Low-key missing physical Classrooms, the best of em places for a short siesta and Departments, thee sacred space of interest. 
9)Mangalore, Malls and Manipal- the ultimate Bermuda triangle of NITKians, kindly insert Surathkal somewhere.
10)F.R.I.E.N.D.S – we can't be there for each other
11)Clubs, classes, labs, assignments, Music nights, film weekends and sneaking past guards and supervisors. 
12)HCC, SJA, CCC are just not abbreviations, are they? *checks weight for nth time in the same week
13)The underpass (a moment of silence for circuit branches) & the goddamn irritating siren, the ultimate love-hate relationship 
14) Pavilion, Library, Sports Complex, Special mention: FnH and Chem Dept. Sources describe it as, 'The paradise and true greenery of NITK'
15) MAGGI – Reddy's><Nandini's><Beach Shack's? slurped best at the finest purple hour of 5-6pm 
16) SBI and its gradual pace of working, that AC hits different though, Main Building, Xerox center's queue, Co-ops and unscanned Gpay transactions, 'Dude, got any cash?' 
17) Sasihithlu, Malpe beach, Udupi, St. Mary's, Murudeshwar… #wAnDeRluSt #aDveNTurE 
18) SAND. Just Sand
19) Late night birthday bashes,the fights, arguments, the make up hugs and the birthday bumps
20) Convo day at Red rock, treats at Bournbon, class dinners at Andhra, swiggying Laziz on lazy Sundays, secret dates at Pitstop, etc
21) Late night Library meet cutes during peak exam times. 
22) The 11.1 moment at GB road, 'Akka, just 5 mins more?'
23) ID cards, broken-stolen-borrowed umbrellas and forever dripping footwear
24) Engineer, Incident, Freshers, farewells, Beach Holi to Diwali, Onam to Pongal
25) The late night cramming of an entire semester's syllabus and the relief of the last day of exam
26) The day-night practices for Bharat Darshan
27) Sports fests, cultural fests, the intense cheering for one's department
28) 'Macha, act sober, we are near the gate'
29) The madness inside hostels
30) The lone tear shedded, lying on the beach, whilst listening an indie song
31) The kaleidoscope of memories collected inadvertently while pranking, teasing, hugging, laughing, crying, by just being together with them best of friends.
'Tis not just 31 things that we miss, it is the 30 one hundred things we miss every single day. We are home for months, but home still feels thousands of miles away. Somewhere near the Arabian Sea, reeking of gut-wrenching fish odour, humid air, pale skies, red sand, sweaty palms, frizzy hair, always drenched(is it rain, is it sweat, we'll never know). 
Tallyho, NITK!
Till we meet again
Photography Credits: Pulse Photography Team
Special Credits: Reeti Rajan, Yuvraj Chavan, Pranali Waghare, Vaishnavi Surve, Vageesha Mishra and Aparna Biju