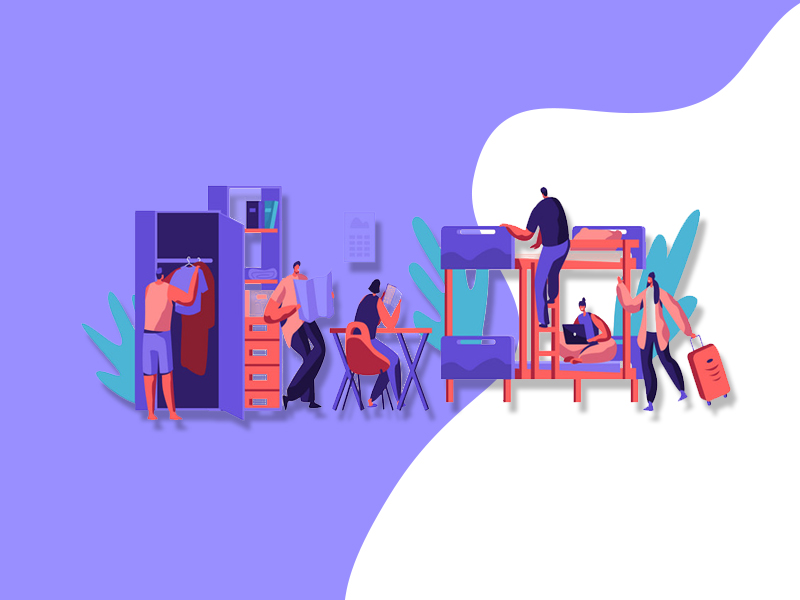 Instead of the Perrons, imagine you and your friends moved into the quaint suburbs of Rhode Island into the bleak Old Arnold Estate from The Conjuring cinematic universe. You got the house at a killer deal, although the real estate agent was unusually willing to get this property off his hands. To your pleasant surprise, you find clement, azure skies throughout the year. You are the proprietor of a palatial abode spanning eight and a half acres, fully decked out with a pond and a river in the back, all to share with your friends. What's not to like about this new neighborhood?

Carrying the boxes from the moving company's truck, you hobble down the creaky staircase into the pitch black cellar with your prized possessions. These include your life sized Erza Scarlet body pillow, a litany of action figurines from Barbie and an assortment of totally unnecessary goods that you must keep in safekeeping, for these possessions are more valuable than your life.

You have the time of your life for a few weeks, but you are witness to inexplicable things occurring every other day. Your pal is developing some weird infections. Doors randomly jar open and creak to a close. The heater in the cellar keeps going out and you saunter into the basement to sort out the issue once and for all. A solitary lamp hanging from the ceiling covers the room in a sombre amber haze. Once you cross the last flight of stairs, the light flickers out and the door violently slams shut. All your prized Power Rangers paraphernalia are flung around the dingy room in haphazard trajectories. Unearthly wails, rife with bloodlust pierce your ears and you can't help but think of eldritch aberrations that could have possibly resided in this cursed dwelling. You rush out of the godforsaken house, fearing for your life, leaving all your precious effects to rot.
A few days later, you come back to your senses and realise that you really really need to play with the action figures that you left in the basement. But will you risk your life to go through fire and brimstone in the depths of the cellar to retrieve your items?

This grossly overdramatised hypothetical narrative has a lot in common with the situation we are all in right now. We were having the time of our lives in college, still reeling from the hefty impact that Incident had left on us. But, with the ghastly spectre of the COVID 19 pandemic looming large over India, and most importantly, over NITK, students were served a directive from the administration in early March to vacate the hostels with immediate effect. Prima facie, it was supposed to be a cursory respite from the mundane routine of classes, with a return scheduled in just a mere 2 weeks. Laptops, books and copious amounts of outfits were swiftly jammed into overflowing suitcases across all the hostels around campus. The atmosphere was rife with restlessness, but these jitters were offset by the excitement of going home, much to the pleasure of us students. Packing was light with students carrying only the essentials, but some had the foresight of this lockdown being extended indefinitely, so it was not unusual to see completely empty rooms.

For an excruciating period of 5 months, re-entry of any form was barred and we had to accept the fact that our precious vestments would be ravaged by terrible blights of mold and fungi. But recently, students were permitted to return to the campus to retrieve their belongings. We contacted a few students who travelled back to the campus to get their valuable opinions on the experience.

The journey back to NITK is the most daunting part of this Augean quest to retrieve your belongings. The means of transportation used is of primary concern. Private/state bus services might employ passable standards of hygiene, but in these plagued times, nothing that is used by the general populace is safe enough. The journey is best suited for personal transportation, but unfortunately students from distant states will have to employ public transportation as personal transportation would be impractical. Students travelled in their own cars or booked taxis to reach campus. The taxi drivers took all the necessary safety measures during the journey and carried out all the formalities at check posts so passengers never had to encounter any people during the journey. It is recommended to follow these measures to prevent any mishaps during the journey.

Applying for an entry pass to Karnataka and return pass was necessary, but after Unlock 4.0 was announced, passes were not needed. However, travellers might have to register in the Government COVID portals as officials need to keep a count of people entering the state. Prior coming to college, students need to obtain permission to enter the campus through an email from the Dean of Hostel Affairs. It is recommended to send this email before planning out any journey details, as consent can be put on hold. At the college gate, the permission letter and your ID card is necessary for entry. Your body temperature will also be recorded. Students must also wear their own masks and gloves before entering the campus.

Getting down to brass tacks, the procedure of luggage retrieval process from hostel rooms was found to be quick and expedient. The students were pleased by the steps taken by the management to ensure safety and convenience. First, students must go to the Hostel Office and vacate the rooms officially and a mess refund form should also be filled in. Staff will accompany students to the hostels, but will not enter. It is advisable to bring sanitizer and disinfectant spray to clean surfaces (locks, staircase handrails, lift buttons) before bodily contact. Since the Mega Towers were used as quarantine rooms, it is advisable to pack and leave as early as possible

Students have only been witness to college life in its heyday, but now it is really disheartening to see the place without students. It is like the campus has lost its soul. Although most of the teaching and non-teaching staff are on campus, the hostels wear a hollow look of desolation. After 5 months of no contact with any life, the dust lays thickly in the rooms like winter's first snow, but instead of being a pleasant white, it is a depressing dirty grey.

The comforts of food and the immaculate ceramic throne at home have kept us going strong for 6 months, but college is getting unusually nostalgic as of recent. We hope that the ongoing situation is resolved swiftly and we can go back to rushing to an 8 AM class soon.