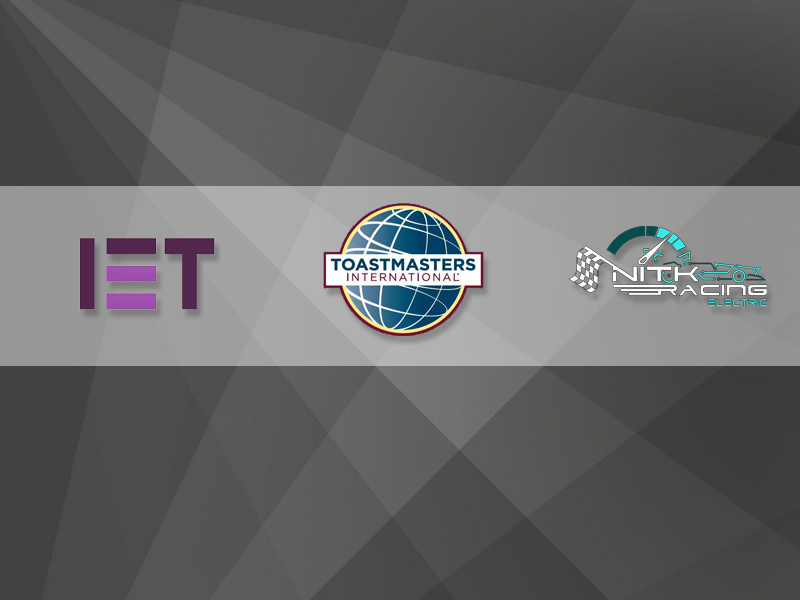 "Words are powerful. They inspire us, launch us into action, and they drive us to create the changes we want to see in the world. The power words carry are one of the reasons we love quotes so much. When worded just right, a sentence can become a mantra, an ethos, an endless source of power. As business owners and entrepreneurs, most of us were driven to create something we believe needs to exist. That drive requires ingenuity, creativity, and above all leadership."
– Sherrie Gossett
We are back with our fifth edition of the 'In House' series. For this edition, we had with us Manash Sharma (NITK Racing EV captain), Palash Agarwal and Skanda Upadhyaya (IET co-convenors), Supritha Harishankar (Toastmasters-NITK chapter president), and we tried to find out the plans they had for the impending semester.
Manash Sharma – Captain (NITK Racing Electric)
– How is the NITK Racing EV team collaborating in these times, and what are the new problems the team faced?
Currently, due to the pandemic situation, it isn't possible for the team to collaborate physically. So to compensate for the lack of physical presence, we host online meets for direct communication. We have a full team meet at least once a week where we discuss the overall progress of the car. Apart from that, we have design meets as per requirements which can go as often as multiple times a day to one in a week. Subsystem heads carry on their own subsystem meets to discuss subsystem related details. We assign tasks on a project management platform known as Notion and also use a Gantt chart to keep the track of the work assigned. All the documentation is done on Notion and important files with proper legends are stored on the drive. For general communication, we use Whatsapp, where we have various groups for people to communicate regarding different topics.
– How was the FSEV concept challenge experience?
FSEV Concept challenge was a competition designed to cater to the needs of emerging formula electric teams and it truly delivered the same. There was a lot of learning involved and the feedback from the judges really helped us identify our pitfalls in terms of design, management and marketing. We did perform quite well in some of the events for a first-year team standard such as FMEA report and Team Management, ranking 9th and 7th respectively in the same. Currently, we are improving the design based on the feedback from the mentors from the competition and are currently focusing on making the design manufacturing ready.
– What does the new timeline look like? Are the FB2022 preparations underway?
We are preparing for participating in FB2022, which by its schedule should be conducted in the month of January 2022. In order to get event-ready, we have finished most of our designs for the electrical system before the FSEV Concept Challenge. Certain components need design changes which are underway and should finish by mid- October. Simultaneously the marketing team is working on raising the funds required for the car and this marketing exercise will continue all year round with certain milestones every few months. We are planning to start procurement post-October and will start manufacturing from the month of January as that is the earliest we can reach the college. We should finish our manufacturing by August 2021 and start testing the car from September onwards and get the car event ready by December 2020.
Facebook: https://www.facebook.com/nitkracingelectric/
Instagram: https://instagram.com/nitkracing_electric
YouTube: http://www.youtube.com/NITKRacingElectric
---
Skanda Upadhyaya and Palash Agrawal – Convenors of IET

Skanda Upadhyaya

Palash Agrawal
– How is the team collaborating in these times, and what are the new problems the team faced?
The pandemic has definitely changed a lot for us. It is surely difficult to stay connected with people online. When in college, members are eager to meet up to discuss several things, which are not just limited to the club events and projects, but also to discuss movies, web series, books, stand-ups or even just to hang out and chill. In the previous years, we had yearly club dinners, hangouts, and club trips. This year's trip co-incidentally occurred on 13th March – a day before college was shut down for good. Such was the IET life on campus. All of us definitely miss those days. Even though the free version of google meet offers a 24-hour limit, video calls don't fill up those voids.
To try and bring back the same feeling of connectedness, we have occasional Skribbl contests to bring out the inner artists of people (The next AF is here xD). We have random brainstorming sessions to come up with ideas and events we can plan for the upcoming year. We are also looking forward to having an intra-club activity group and Happy Hour sessions to engage club members. Overall, even though we have had to shift from physical interaction to an online platform, as a club, we have been making ourselves accustomed to this switch and have adopted various ways to make full use of the available resources to increase the productivity of our members.
– What is in the pipeline for the club? Any new events that we can look out for?
IET has a planned structure for all its events. While there are quite a few things that we plan to introduce this year, there are two major events that we are looking forward to conducting in the upcoming days. Our main objective has always been to ensure that we can involve students from all years and target the topics of the hour.
Currently, for the pre-final years and final years, IET BFME has been conducting a series of coding contests. These contests will expose students to the online test format and make them familiar with the different topics and questions that can be expected in the upcoming internship and placement season. Even the first and second years can participate and have an enjoyable time exploring competitive programming.
We all know the drastic change that has occurred in the BTech curriculum since 2018. Many of us have been approached by the juniors with lots of doubts regarding this. Understanding the need for proper guidance, our second major plan is to conduct interactive sessions where the seniors can clarify and solve the majority of the juniors long-standing issues and queries to help them navigate their way through the second year.
These are just a few things planned for the near future. We have a great lineup of events and we hope to share them with everyone soon!
– Finally, what do you feel are your responsibilities as the new co-convenors?
Our responsibilities as the new co-convenors are to ensure that the club functions smoothly, conduct more number of events, both technical and non-technical, and take our club to greater heights (maybe a trekking trip :p)
HackerRank: https://www.hackerrank.com/iet-bfme-level-two
Instagram: https://instagram.com/ietnitk
Github: https://iet-nitk.github.io/
LinkedIn: https://www.linkedin.com/company/ietnitk
---
Supritha Harishankar – President (Toastmasters)
– What are your plans for the Club/Team in the upcoming year?
We have been growing exponentially as a club in the Division (Mangaluru/Manipal region) and the District (Kerala and Karnataka). Our aim is to sustain this growth while providing opportunities for people to improve their public speaking and leadership skills. As a part of this endeavour, the 'Communication for Career' series was kick-started in early 2019 and has been our way of giving back to the NITK student community. Expect to witness more of these sessions soon. We also plan to conduct member-only educational sessions on a variety of communication and leadership aspects. The pandemic has given us an opportunity to meet with clubs abroad, teaching us how to be accepting of different cultural backgrounds. Owing to the fact that we will have to meet virtually for a few more months, we will continue meeting with clubs abroad at least once a month. This year, we won 3rd place for the 'Best Newsletter' award among thousands of clubs in the District. We plan to step up our game and be crowned as the 'Best Newsletter' in the District this year!
At the beginning of October, we hope to welcome new faces to the NITK Toastmasters family and guide them to become better communicators and leaders.
– And what would you say are your expectations from Toastmasters and all its members?
Achieving a greater presence in NITK and our community has always been an important goal. To ensure that, I hope that our members take up speaking roles across campus and perform as Emcees in college events. This will spread the word about what we do. We are well recognised in the Toastmasters fraternity in India and beyond. I would love it if our members would utilise these networking opportunities to the fullest and have a wholesome learning experience and don't limit themselves to the confines of our club.
I hold my team of office bearers in high esteem and trust that they will be hardworking and dedicated to their roles. Leading by example is the key, especially during trying times like these. They must make sure our members derive the maximum benefit from what they have signed up for and motivate each other.
– And, what do you feel are your responsibilities as the new president?
As President of the club, my responsibilities include but are not limited to:
Presiding over every club, business and Executive Committee meeting.

Raising the club quality and member's experience.

Earning Distinguished Club Recognition.

Recognize member achievements.

Serving as the club's representative at the District and international levels.

Inducting new members into the club.

Attending and voting at Area and District Council meetings.

Nurturing a comfortable learning environment for the club members.
– What challenges or obstacles do you see in the functioning of the club given the current circumstances?
Collaborating on tasks is definitely a challenge. We used to get work done over dinner at the Food Court while we were on campus, enjoying the camaraderie and common love for Toastmasters. We make sure we are as efficient as we would have been if the pandemic hadn't befallen upon us. Zoom fatigue is an unforeseen reality and can get taxing sometimes. A conscious effort towards combating that happens, but we can't wait to get back to have our club meetings in the SoM department seminar hall. Sometimes, we are unable to accommodate everyone in the decision-making process due to poor network connectivity, making it up for those people is essential and we make certain of that.
– Any other events or proceedings that we can look forward to from Toastmasters?
Our website is a work in progress which should be up by mid-September. Apart from that, the NITK Toastmasters Club YouTube channel is coming soon to provide a glimpse of what we actually do in a Toastmasters club.
Like I previously mentioned, the 'Communication for Career' series aims to inculcate professionalism in the NITK student community when they put themselves out there in the job market and face interviews for internship and placement during the campus recruitment processes. A lot of us will be encountering the recruitment season very soon and we have just the right expert talk lined up for you. Stay tuned to our social media handles to find out!
Instagram: https://www.instagram.com/nitk_toastmasters/
Facebook: https://www.facebook.com/NITKToastmasters/
Check out our Installation Ceremony on NewsKarnataka.com and MangaloreToday.com