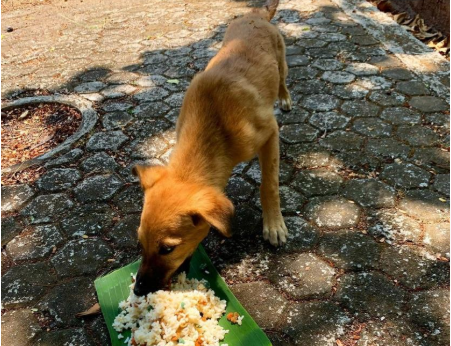 Just like humans, dogs are also in a battle of survival during this pandemic. NITK shelters more than 60 dogs on campus. These dogs are fed by the students or managed their hunger by the leftovers from various hostels.
Given the current circumstances, as there are hardly any students and only one mess is operational, most of the dogs are deprived of food and they might end up competing with one another for food.
Considering this issue, the people in the localities like Bharath K who lives 3Kms away from NITK in a place called Marigudi along with some others have initiated the duty of feeding them food and water for their sustenances during the national lockdown in the wake of coronavirus pandemic with the help of "K9 Restro", "RHA Mangaluru" and "Team Karvi" . Touseef Ahmed, who is an animal rescuer from Mangaluru, Animal Care Trust (ACT) and many others have also extended support for this initiative.
MS Bhat, Dean Faculty Welfare granted permission to kick start this initiative in the college and appealed them to take all precautionary methods amidst the pandemic and ensure hygiene.
Rice is provided by team Karvi and eggs and pedigree by K9 Restro. Touseef Ahmed also provided a 10Kg bag of pedigree. The guards of NITK provided rice to the dogs along with them. Robin Hood Army (RHA) Mangaluru donated ₹5000 for this initiative. Students of NITK have also raised funds for this kind act. A mixture of rice, eggs and pedigree is provided to the dogs of NITK.
Animal Care Trust (ACT) has also been very active in feeding the Dogs in and around the campus. ACT volunteers Nischal Shetty and Savi has been feeding the dogs inside the campus and also provided ration to the guards to feed them. In addition, Sangeeta of Tadambail, another ACT volunteer has been feeding rice, bread and biscuits to the dogs outside Omega Hostel.
Interested beings who wish to volunteer and contribute are requested to contact the number given below or reach out through Instagram.
Contact No: 9164612396, 9164612397
Instagram ID: join_hands_bk