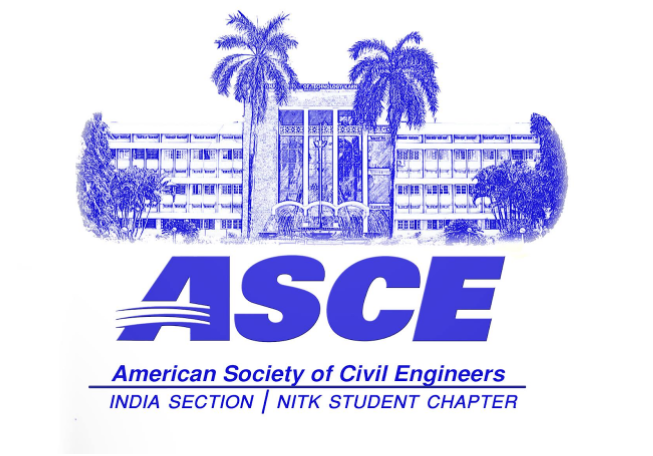 The American Society of Civil Engineers (ASCE) is one among the oldest professional engineering organizations, consistently providing opportunities for the development of civil engineering professionals. We seek to emerge as a recognized expert advocate for responsible and sustainable development of infrastructures and the natural environment.
ASCE has established a body of knowledge, essentially aiming to keep up with the standards for skill and attitude of successful practising civilian engineers in the 21st century. Since its inception, over 160 years ago, the club has devoted its efforts to advancing both individual civil engineers and the profession as a whole and continues to be the flagship of innovation and leadership in the field for generations to come.
What inspires the ASCE NITK chapter?
Our main motive is to provide a platform for students to understand and explore civil and construction engineering, considering aspects of intuition and sustainability. Civil engineering is a demanding field that requires a broad and evolving knowledge base to prepare and successfully overcome challenges transcending generations. We work actively with professors and industry experts to strengthen educational requirements for future professionals.
Considering the worldwide sustainable infrastructure as the topmost priority, projects done by the club members are designed to enhance the environment, the economy and the living standards of the general public.
ASCE as an evolving Club
ASCE aims to advance the engineering profession by providing technical guidance, serving the public and creating global leaders along the way. We nurture the roots of understanding and knowledge to such standards where issues can be tailored to be addressed.
Invigorating civil engineers as a forefront for innovation, exchanging ideas and thoughts, opportunities for technical presentations and conferences ultimately make ASCE a perfect venue for all.
The journey here on out
The ASCE NITK chapter has been spearheading the institute's motto to produce quality engineers, thanks to the leadership and technical depths of the professors' incharge. It is the voice of the collaborative efforts of all the passionate and committed members whose mission is to #BuildBetterFuture by continuing to advance the profession as trusted leaders in the field. With an ample number of new projects, knowledge exchange programs, mentorship initiatives and flagship events underway, the club establishes an exciting year to proceed.
Nurturing the wits and progress of all civil engineers
With the evolving discoveries and innovations, ASCE aims for apposite critical lessons and help, ensuring that the future designs better protect our citizens for years to come.
We believe our distinction in supporting the civil engineering industry, professional development and making the civil engineering profession one's camaraderie.
We expect to build quality engineers who play a crucial role in building productive and resilient communities, protecting the environment, and ensuring a better future for us all.
A rapidly changing generation needs to train and educate young minds with befitting tools to meet a better tomorrow's needs.