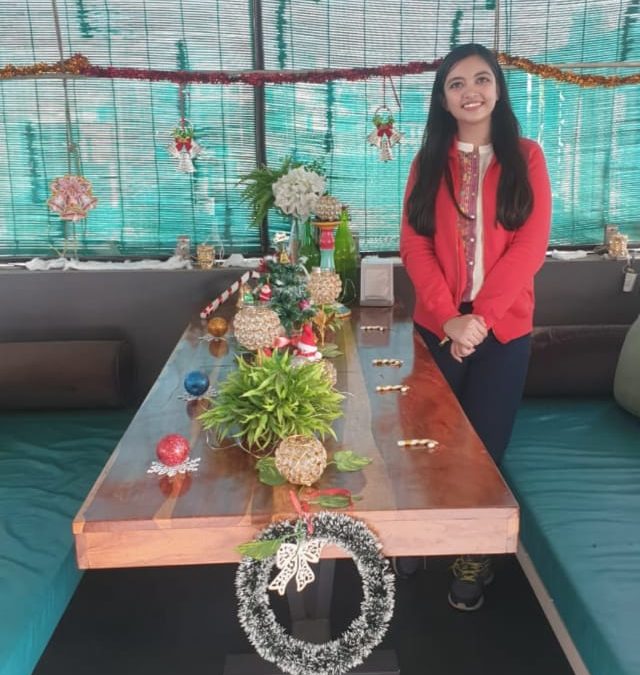 As the lockdown and stay at home aspect of COVID-19 continues, we believe it is extremely important to make the best use of your time. A lot of us are bored, frustrated and really tired of the entire scenario and indulging in some healthy and uplifting habits which boost our physical, mental and emotional health is of undue importance. For this reason, Pulse is Proud to present the "Lockdown Motivation" series, where students who have successfully ventured into new hobbies, improved their existing ones or try something new, share their experiences with the hope of motivating you.
In the first part of the series, we have the experience of Shruti Masand, a final year BTech student from ECE. She has a successful Instagram page where she teaches cooking with an emphasis on health and taste going hand in hand. Her page named "Masand ki Pasand" has over 5000 followers and was started around a year ago. She shares her journey, inspiration and approach to achieving this truly remarkable growth and reach.
"Before the lockdown, there were many changes in my life. I experienced a lot of highs and lows due to a number of factors. Ever since the year began I felt as if there was a void to be filled although I wasn't sure how to go about filling it. The one glimmer of hope, when I slowly felt I was becoming lively again was during Incident 2020 but unfortunately, COVID happened and our college was shut for an indefinite period of time. It was also a very depressing environment to be in with all the suffering, negativity and more. I decided to turn to various hobbies and activities in order to feel better and take my mind off these mind-numbing thoughts. As a kid with a lot of hobbies like dancing, painting I felt really inspired to try this out. One hobby I never really ventured into was cooking and I was really eager to try my hand at it. I was very famous for a special Maggi recipe which I used to make once a week when I was back home. Everyone used to praise me and enjoy it every single time. But Maggi is one simple dish and how long can one make the same? So I decided to try new dishes and recipes. An incentive for pursuing the same was on account of all restaurants being closed and being a true food lover this was indeed upsetting. My mother was hesitant to allow me in the kitchen on account of the safety hazards and such. So one day in rebellion, when my mother went for work, I sneaked into the kitchen and made some chapatis. Being the first time I was trying this art it turned out to be really stiff. My mother seeing my effort decided to move from resisting my efforts to actively supervising and teaching me. A lot of hilarious and rather inexperienced mistakes ensued. One I am likely to remember for a very long time is adding tomatoes to the mixer and forgetting to hold the lid. Naturally, it caused a terrible mess and the walls turned red for a good duration of time.
I slowly started liking it and began to research and try out recipes of dishes I craved for. To my pleasant surprise, they tasted really well. Being an extrovert, I loved sharing my experiences with the rest of the world by putting up stories, pictures on family groups and more. In around a month's time, I had a good collection. To be honest, I did not come up with the idea of starting an Instagram page. One day, when my friend gave me the idea of starting my own dhaba, I pondered over the name I would give it. I put up a story asking for suggestions and got some really amusing ones. One of my school friends recommended "Masand ki Pasand" – a name which was popular due to a show by Rajiv Masand and one which I had been hearing all my childhood on account of my surname. Nostalgia flooded me and led me to make the Instagram page. I also decided that if college were to open, I would convert it into a food review page. Thus my journey began with samosas which were made out of wheat and had lesser potato while also having more vegetables. It was also microwaved as opposed to the general trend of frying it. It was a healthy twist to the very popular dish and I always wanted to make my food tasty while eliminating the guilt of consuming it. I proceeded to post for the very first time. My intention was to make the viewer capture the essence of the food and engage all senses, not just sight. I wrote a well thought out caption and received some good feedback. Initially, the number of followers and likes were very less. However, I deemed them as mere vanity metrics and decided to press on. However, over time, seeing very slow growth I was rather demotivated. I researched a lot on editing, lighting, colours and incorporated my learning into the subsequent posts. I also researched the various methods to get more followers on Instagram by reading up various techniques and terms like engagement rate. I also joined various food blogging communities on Instagram. The purpose of such groups is to support one another by connecting members with like-minded food bloggers. I also got to observe other pages and took note of the decoration, angles etc. Soon I also incorporated hashtags, keywords, image filters and more in order to increase traction and visibility. My followers suddenly began skyrocketing. I slowly understood what to do. The entire experience was also keeping me away from the vast amount of negativity around me so it turned out to be a win-win. I soon got over 1000 followers which truly felt amazing. At this particular milestone, I came to a realisation. This hobby has helped me get through and survive the pandemic far better than I could have ever imagined. After crossing the1k mark, it got easier. I began making everything for all kinds of special occasions like birthdays, anniversaries, happy events and more. It was also in a way freeing, from cutting vegetables to making tastier and better food, I never felt so distressed and alive. There was also great joy in seeing others happy. Soon however I got busy. 3rd year began and with the onset of the internship recruitment season, I wasn't able to dedicate much time for cooking. I used to cook during the weekends as a form of unwinding from the stress which was part and parcel of that period. I also realised that one of the best ways to stay away from the screen is by cooking.
Initially, I posted only pictures. I slowly started experimenting with other formats like videos and reels – both of which were getting more popular. The process however was truly exhausting. Managing and maintaining the right angles, lighting etc easily took hours to perfect. A significant challenge was to compress the efforts of hours worth of effort into a minuscule 30-60 seconds. I also spent a significant chunk of time ensuring it looks good, adding the right music and selecting the perfect captions. The audience was engaging very well on the content. I kept reminding myself that this was a hobby and just that. I didn't intend to make a living out of this. I decided to take a short break one which wasn't missed by my friends. The idea was never to post frequently – it was to post good quality content. I also had some friends who helped me out with editing. This was a symbiotic relationship as it benefited both parties. I got superior content and they got greater exposure and reach on account of my high following. Another interesting field I ventured into was collaborations. Here, brands approach you in order to promote their products and give honest reviews. I decided to try my hand at that and got around 5 to 6 offers. This presented a totally new side to blogging. It was also a means to earn quite a decent amount of money as well. I experimented and tried out some of the products and it was truly a great and rewarding experience.
Although this has been one of the most illuminating experiences in my life so far, I believe in ensuring a line is drawn between academics and hobbies. I do have a lot of responsibilities and work from my internship, clubs, coursework, projects and more. I always ensure that this hobby of mine is an outlet for stress and not a cause of one. As for the future of the page, I hope to convert it into a food blog once the lockdown ends and review dishes based on where I work. I dream of capturing, reviewing and writing about food wherever I go. I really want to try out multiple cuisines and experiment with food as it truly makes me feel happy. Really excited to see how it will turn out!"