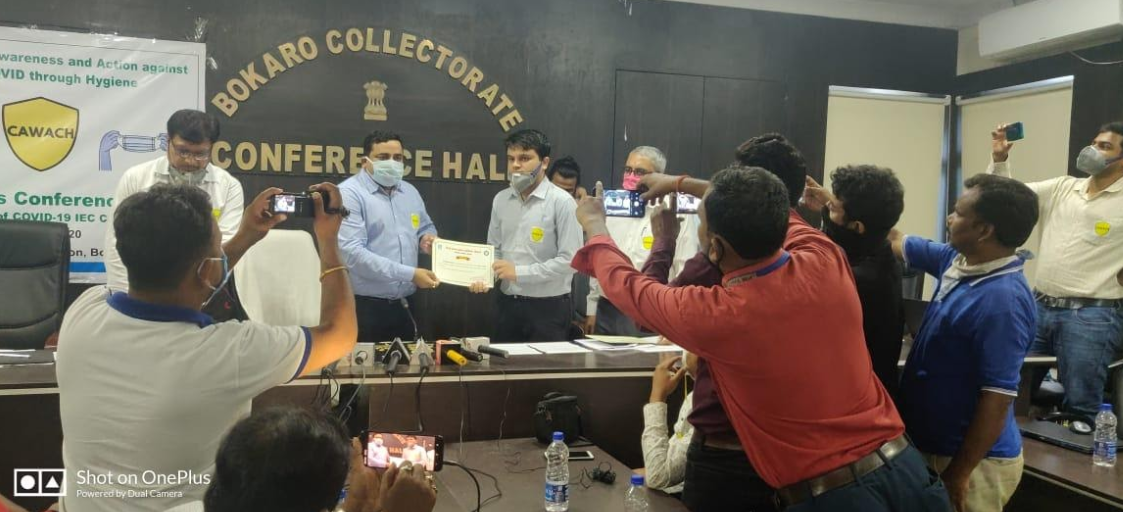 As our nation grapples with the unprecedented challenges posed by the COVID-19 pandemic, stories of youngsters who rise to the occasion and contribute to the fight are music to one's ears.
Today, Pulse NITK brings to its readers the inspiring story of one such individual.
Chitransh Lodha, an Electrical and Electronics Engineering student from the NITK Batch of 2020, worked with the Bokaro District Administration to develop SARAL – a technology-based system to facilitate the safe return of migrants. The system also handles tasks such as subsequent tracking, surveillance and quarantine management among many others.
Read on to know his story.
1. Hello Chitransh! Firstly, Congratulations on behalf of Team Pulse for your contributions to the development of SARAL.
Thanks a lot. I am grateful to Team Pulse for taking the effort to write about the work of NITK students. You guys are doing a great job. We have always needed a student media body like yours in NITK.
2. It'd be great if you tell the readers a bit about SARAL. What is its purpose and how exactly does the system achieve it?
SARAL stands for Safe Arrival and Accommodation of Labour. Bokaro district is in the state of Jharkhand with a population of about 25 Lakhs. Due to the nationwide lockdown, 40,000 people belonging to Bokaro district were stranded across the nation which included labour, medical migrants, tourists, students etc. Post the easing of lockdown, these people were expected to pour into the district in a phased manner.
The pressing challenge was to ensure their safe return and also to ensure their consequent surveillance once they are back.
We generated an estimate of the number of people who were expected to arrive in each Bokaro panchayat using the calls we received on helpline numbers. We used this information to understand the major clusters in the district where migrants were expected to pour into. This would help improve the preparedness of the admin with respect to logistics planning, HR Deployment, quarantine centre placement, check post planning etc.
Fig 1 – SARAL Dashboard indicating major clusters of migrants in the Bokaro district
We also gathered information regarding the number of people stranded at different locations across the nation. This helped in bus route planning for their return.
Fig 2 – SARAL dashboard depicting concentration of migrants stranded across India
The next step was to capture the details of migrants when they enter the district through the various borders and railway stations. We developed a curated form to collect their contact details, health status, source and local addresses, skill data, Aadhar data. Most importantly, we ensured that it took not more than 2 minutes to fill the form. There were volunteers placed at every check-post to record this information.
Based on this data, certain analysis was done as shown below:
Further, mapping of different government facilities like food distribution centres, health centres etc. were also embedded into the dashboard for better planning.
Fig 3 – Statistical analysis on migrant entry
The mapping of the containment and buffer zones and analysis of demographics in the region was also done.
Fig 4 – Mapping of Dal Bhat Kendras in the district where free food was distributed
Fig 5 – SARAL dashboard representing the containment and buffer zones in the district
The next step was to develop a Quarantine Management System.
A real-time map of the migrants who already reached the district was updated as and when people reached the district. This information also helped in contact tracing once a positive case was detected.
Further, when these people arrived in the district, it had to be ensured that they adhered to the standards of Home Quarantine. To ensure this, ground-level workers called Sahiyas were already visiting the homes of the migrants every day and sending back health status reports. However, this was being carried out manually without adequate supervision. We came up with an OTP verification based system to ensure that the Sahiya actually went and checked on every quarantined person.
We also developed a dashboard to monitor the capacity, availability, occupancy of the state-run quarantine centres. This helped the district admin plan its logistics better with respect to managing the state-run quarantine centres.
3. So, how exactly did you get the opportunity to work on this system? What is the story behind it?
One day sometime in the last week of April 2020, I was surfing through Facebook when I saw a post on the Deputy Commissioner(DC) Bokaro's Facebook page asking for volunteers who might be interested to work for the district administration regarding Covid-19 pandemic. They were looking for engineers, data analysts, doctors, students. Basically, anyone who was willing to help. There was an email ID given and interested people had to send their resumes.
I had always wanted to do something that actually created an impact and this was my opportunity. I replied to them and the next day I got a reply that I had been shortlisted and was invited to the DC office for a briefing with the Sub Divisional Officer (IAS).
I had previously worked with a few IAS officers back during my stint in the NITI Aayog during summers of 2019. I was always inspired by them and hence was happy to attend it. There were around 10 volunteers who were called from different backgrounds. The briefing was in a big conference hall (we maintained social distancing) and was very energetic and inspiring. They had a vision and they needed people to come up with innovative solutions.
I and Abhishek (another final year engineering student from BITS Goa) were the ones who stayed till the end while the other volunteers left after a few days.
4. How long did it take to develop SARAL? What was your experience working on it?
It was a gradual process. The initial dashboard was ready within 2-3 days and then subsequently, we kept on adding more and more features with time.
There were mainly six of us throughout (DC sir, SDO sir, Two Fellows posted by the MHA, Abhishek (another volunteer from BITS Goa) and me).
We worked and discussed for hours in DC sir's home office and brainstormed to develop this system. Inputs of both the IAS officers were very helpful during the complete process.
We even took training sessions to teach the ground level volunteers who were to collect data at check posts.
I personally had to visit some of the check posts and even quarantine centres to support the team. All this was scary sometimes, but we kept our spirits high and the passion to do something that would eventually help the people of my hometown drove me on.
Unfortunately, my major project and other academics had to be compromised, as we had to respond to requests of various data as and when demanded by Govt organizations.
5. You have been getting quite some recognition from multiple sources for your work on SARAL. With news articles featuring your work to even, the Minister of Human Resource Development, Dr Ramesh Pokhriyal, tweeting about it and complimenting the team. How does it feel?
It feels really great that something I did actually helped solve a problem in this time of crisis. When I started working, I never thought that it would one day become so successful. It is a result of constant work and support of the whole team. I am very thankful to the district administration for giving me this opportunity to be able to serve this nation. Even NITI Aayog had shared the SARAL dashboard on their Facebook page. All these small actions have motivated and kept us going.
6. Do you have any future developments for SARAL in mind?
Yes, as a matter of fact, we launched KAAMGAAR which is basically a job portal. Now in the final stage of the lockdown, we have a huge database of 15,000 skilled and unskilled migrant workforce within the Bokaro district. The next challenge is to provide them with jobs locally.
We developed a web portal which will act as a skill exchange centre for the district.
This portal is completely free of cost and the main aim is to provide employment and jobs to the distressed migrants and also to push the local economy struck due to the prolonged crisis and shutdown.
Currently, we have been successful in employing about 500 people through direct and indirect means and we aim to increase this number to as much as possible.
Fig 6 – KAAMGAAR Dashboard
7. In a different note, due to the ongoing crisis, your college life has unfortunately come to an abrupt end. How does it feel to be leaving college?
It definitely does not feel good. But I know that it is not over, I will go back one day and visit the beach one last time, chill out with my friends in MT-1 or go to the department or LHC-C and play badminton in the Sports Complex one more time.
8. What are your future plans?
Presently, I am still working with the district administration though not full time. I am providing maintenance and support for SARAL and also managing the day-to-day operations of the skill portal KAAMGAAR. It almost feels like running a small enterprise, except that it is pro-bono.
I got placed in two companies. I am still waiting for the final joining letters. Both of them are signalling towards Mid August. I am planning to join one of them based on some factors.
In the future, I plan to start my own company someday and leverage technology to improve the lives of people.
9. Any words of advice for the readers?
There are several challenges/internships/competitions being offered by different Govt bodies calling out for young and energetic people to volunteer for the cause. I would request everyone who is reading this article to also contribute in whatever manner they can and support the frontline workers in this time of crisis.