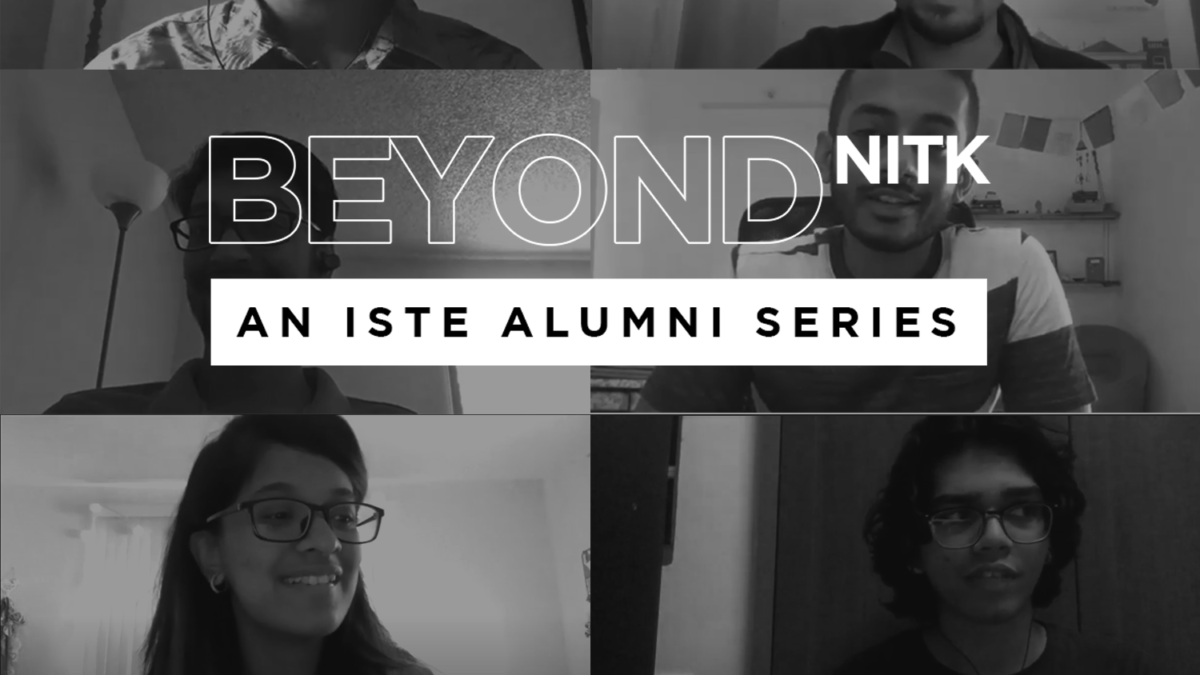 ISTE NITK has always been a home to its members, the greatest source of their myriads of beautiful and fun experiences, and a power house of learning and innovation.We as a club value the strong bond that we share with our members and understand the importance of staying connected with an engaged and supportive alumni network.
Amazon, Nvidia, Samsung, Stanford, Texas AMU, you name it, our Alumni have done it all! We take great pride in our Alumni and hence it has always been an ISTE tradition to actively involve them through our various social media handles for instance the World Tour Series on Instagram and the Long Story Short Series on Facebook.
Beyond NITK is a series of interviews with some of our Alumni, exploring their stories and experiences from how they landed their current profiles, the behind the scenes preparation, to the latest buzz in their respective fields.
Aniket Rege, a Senior Software Developer at Samsung Research was first on our list. He was the convener of ISTE for the year 2017-2018. Having landed a stunning internship in his second year, and then subsequently earning a PPO in his third year, he continues to work at Samsung in the field of Computer Vision.
Next up we had Yashaswini Karanth, the Chronicle SIG Head of ISTE 2017-2018. Looking to pursue a career in academia, having secured a spot at the prestigious Texas A&M University, where she did her Masters of Science in Material Science, and having researched as an intern at the University of Duisburg-Essen and IIT Bombay, Yashaswini talked about the application process when applying to various universities, tips that could help those applying for research internships abroad, and the best colleges and future prospects in Material Science.
With the soaring demand for analyst professionals all across the globe, we also took the opportunity to interview Shannon Gonsalves, an Analytics Consultant at Wells Fargo and Jessina Cherry, a Business Intelligence & Analytics Consultant at Thorogood Associates who was also the Chairperson of ISTE 2018-2019.They talked about their interview procedures in detail and also shed some light on the skill sets that are looked for in an applicant of an analytics profile.
With the placement/internship season right around the corner, our Alumni shared some tips and talked about how important it is to stay focused during this period as it can get very frustrating and nerve-racking. Hard work, practice, patience and just staying positive is what got most of them through it.
Behind the scenes!
These interviews along with being informative and insightful, had some really fun and great behind the scene interactions between our Alumni and current members. It was fun catching up with the seniors, a great opportunity for the ISTE juniors to connect with the Alumni, discuss their career paths and learn more about their fields of interest.They shared with us some of their greatest memories in college, including the "ISTE Goa trips", their freshers' and farewell experiences, and so much more.
All in all, it was a fun, learning experience for our members and a great way to bring our Alumni network together. We do have quite a few more interviews scheduled as a part of the series, featuring alumni that have pursued higher studies in Electrical and Electronics engineering, worked at Amazon, Citibank, Reliance industries and much much more that will be coming out soon. So stay tuned!
Link to our Youtube page : https://www.youtube.com/channel/UCmtRZI-t5iMIEpbLGFSWWHg