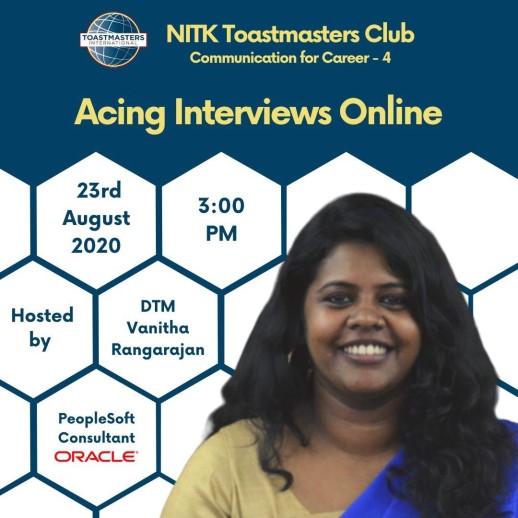 As the saying goes, the first impression is the best impression. In a multitasking, short attention span and a busy world like ours, that has numerous people competing for the same position, it becomes very
important to make a good first impression in an interview. With the placement season around the corner, NITK Toastmasters Club decided to aid the Career Development Cell of NITK to help students by giving them a jumpstart into having great interviews. This session was the 4th edition of the communication for Career series inaugurated by the club in 2019 wherein we've hosted professionals from different walks of life to educate us on the crucial skills to build for the corporate world.
We were joined by Distinguished Toastmaster Vanitha Rangarajan, a PeopleSoft Product Consultant, the CSR activities head at Oracle and the Program Quality Director of District 121 of Toastmasters International, who shared her insight, experience and tips on how to present ourselves. In a session that lasted for over an hour, Toastmaster Shwetha Iyer, a B. Tech final year Computer Science and Engineering student, first participated in an interview conducted by Distinguished Toastmaster Vanitha to exhibit some of the poorer interview skills. This was followed by an open session that saw numerous members of the audience pour their feedback and suggestions stating what could be done differently. Taking all the feedback into consideration, Toastmaster Shwetha then participated in an interview that showcased the ideal skills to be displayed during an interview.
Toastmaster Vanitha went through all the tiny, yet crucial aspects, that mould an interview into a good interview. Along with formal attire, confident demeanour and courtesy, she suggested that we pay heed to our background, the clarity of our video on the video call and other important factors such as avoiding cliché answers and doing the required homework about the company, the position we have applied for and maybe even the interviewer.
With demonstrations of good interviews and advice on key points, all of us left the session feeling more confident and better able to handle interviews. We also thanked and praised The Career Development Cell of NITK for helping simplify the placement process for everyone.
NITK Toastmasters Club is eagerly awaiting all of you to join us for more fruitful sessions such as this. To catch up on all the fun and learning you've been missing out on, join us for our weekly meetings held every Saturday at 4 PM Indian Standard Time. You can contact us on our Instagram.
Handle for the Zoom meeting link:
https://www.instagram.com/nitk_toastmasters
Alternatively, you can message the following people on WhatsApp:
● Supritha Harishankar (+91 99016 80920)
● Harsha Dsouza (+91 98441 13607)