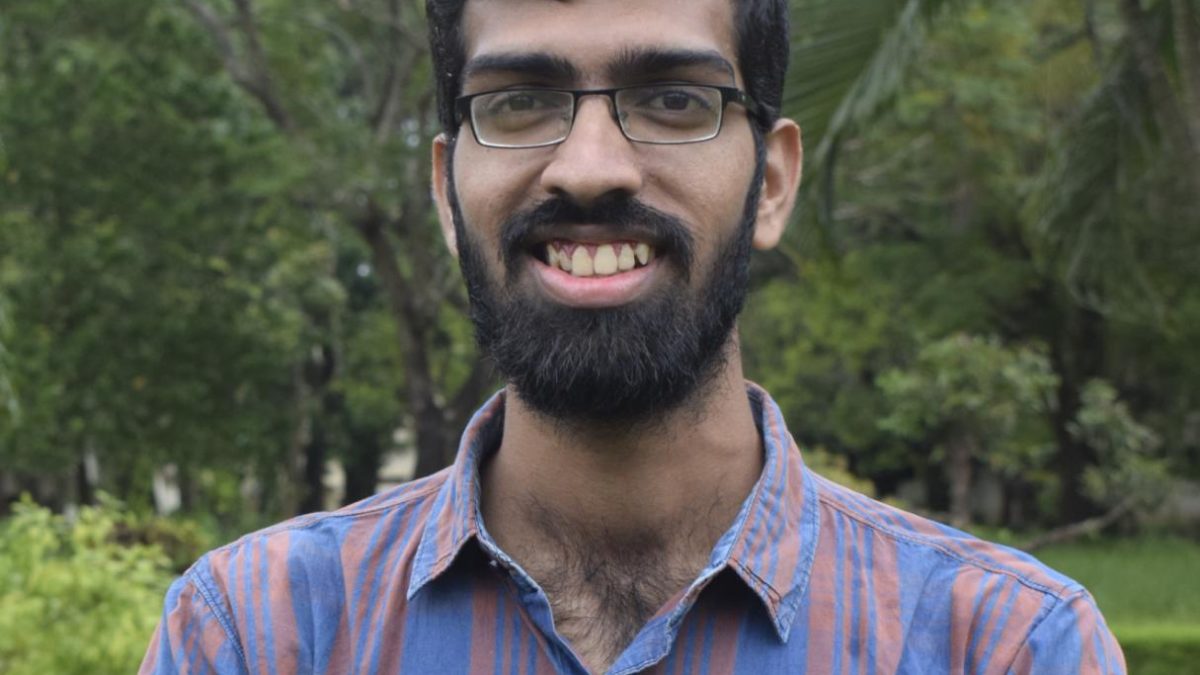 "Not getting what you want is sometimes for the best. I was always told about IITs and the aspiration to get into one had me burning the midnight oil for my +2 years. It was fate's design and I landed up here in NITK by chance. The first year was new and scary for a shy, introverted person like me. I got acquainted with a lot of people, made friends from different parts of the country, got some loving attention from seniors and eventually befriended them too.
Getting out of your shell is a tough process. It's an everyday thing. The language barriers, the preconceived notions about a certain region, the lack of communication skills, all this and more, I dealt in my first year. I realized I liked making things happen, putting effort in an idea and working in teams for a greater good. This led me to contesting for the Network Councilor of Hostels. What active participation does in changing existing conditions, was something I learnt on the go. The little joys I found were not in textbooks or experiments rather in pre-event setup and post-fest management. You have to become a team player first in order to be a team leader. I did all sorts of odd jobs, from putting in manual efforts to brainstorming, as and when required. I believe this is what seniors and peers saw in me and hence, I was nominated to be the Joint Convenor of Incident '18. It wasn't a smooth ride though. There were sleepless nights, 6-7 hour long meetings, planning and scheduling, fixing the mess at the end moment and so on. It dawned on me that patience and empathy are the key factors, when working together with people. Disagreements and blame games are a part and parcel of organizing events of such magnitude. What's important is, the acceptance of responsibility of failures and mishaps, that come along with the position are by default yours. That's an unstated rule.
Concurrently I got myself involved in many ventures. What was meant to be a summer project with my friend, ended up being an information portal for first years named Prism. Being able to help someone through the application of your ideas is so fulfilling. So we decided to reorganize Help Desk to facilitate a smoother and hassle free admission process. The 2nd year brought its own set of challenges. Academically I was struggling to maintain grades because of my conflicting interests. Not that I wasn't paying attention, I was just more inclined towards certain subjects more. Grades aren't everything, but their existence can't be denied, I realised. If you think you are learning skills, that's what matters. Still maintaining grades and a decent pointer is essential for your academic life. So I learnt the art of balancing curricular and extracurricular activities.
I got the opportunity to represent NITK at the NIT Conclave- an annual inter NIT competition. Meeting fellow NITians was a real eye-opener to the advanced amenities that NITK provides us with. We devised TaskForce and I was elected as the Secretary. Parallely, we rebranded the Reading Room & Recreation Committees to Crescendo and Phoenix, the flagship events of respective committees in NITK, wherein I became the Events Coordinator of Phoenix.
The workload was always there. This resulted in my messed up sleep cycle and innumerable NC visits. But the outcome surpassed the physical and mental exhaustion.The downside of responsibility is that you are an open book for people to judge and comment on. People saw me for my titles, not how much I had toiled for them. I never ran for titles, I did chase work though. I learned a great deal about designing, rebranding, marketing, resourcing- all the skills which are helping me now in my career.
Also, it was a long cherished dream of mine to foster interdepartmental relations amongst students through sports and thus Coliseum was born in 2019. We also remodeled and hosted the NIT Conclave that year. I was also appointed as the President of TaskForce and Chief Coordinator of Incident in my final year. While things were looking great from afar, I was at my lowest point in those days of 7th semester. People around me questioned my beliefs, my intentions and my capabilities. It got to an extent that self-doubt started creeping in. Whether I am on the right path, whether I am able to create a positive impact and whether all this is worth it! All the questions kept nagging me and had me demotivated. In such phases, I realised people don't stick by you. But somewhere deep inside, I knew I was learning, growing and that kept me going, despite all the negative comments. Self doubt and self belief are like fuels. The more you feed one, the other diminishes consequently. So again, I took it as a learning experience and faced it head on.
The last semester had arrived and with it the last of my ventures and participation. Bharat Darshan was especially memorable this year, because of the unprecedented win. But the arrival of the pandemic made the goodbye harder. Unfortunately, what was meant to be a semester of trips, farewells and core transfers was wrapped up in a hasty bittersweet goodbye.
Quarantine was hard at first, but the ideation of a startup, as an experimental venture and its execution somehow made it productive. It all boils down to your perspective, how you look at things can make a stark difference. Challenges can be altered into opportunities and obstacles into a growth catalyst. Mistakes and failures are the best teachers. I've had my fair share of them. My college years have taught me the life skills that have made me a better person today. The drive to do something good for the college has kept me going all these years.
I love exploring different food palettes and taste testing still remains a fun activity I do whenever I get time. Life's like taste testing, I feel. You dabble and taste all that life has to offer, in order to know what you like the most. Leadership and management are skills honed over time. I know I am not the best out there, but I am learning every day to become the best version of myself."
-Srikant Dasari
Curated by Vaishnavi Surve