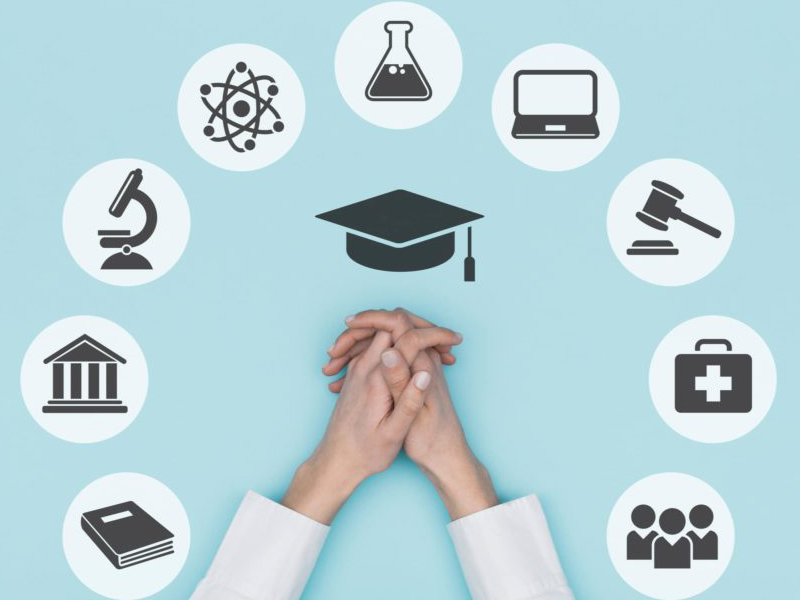 Today's world is fast-paced. Freshers get high-paid jobs as soon as they graduate. However, having technical expertise isn't the only main thing that any corporate firm looks for in a person. Managing people, although it sounds trivial, is a big aspect for companies that boost productivity and helps in the smooth flow of day-to-day functions in an office. This is where management as a career comes in. Be it an entrepreneur, an NGO, or even a huge business firm, management skills are essential.
In general, it's evident that only if an associate/employee has an idea about the workspace and work culture, will he/she actually be able to inculcate that style of work in themselves. Effectiveness in the workspace has been proven to increase when the employees have a transparent understanding of the way the office works.

If you become a manager, your role will be to direct, lead, plan, manage, encourage, cajole, coach, and organize all activities within the organization. Or maybe you'd prefer to be your own boss – self-employed, an entrepreneur, or the head of your own company?

Wherever your career takes you, management theories are always going to play a role in the success of that project/business.

The most traditional way of becoming a manager at a high post is an MBA. It's the most popular management degree. George W Bush, Michael Bloomberg, Tim Cook, Satya Nadella, Sundar Pichai, Sheryl Sandberg all have MBAs.

MBA adds a 47% increase in the chance of you getting a salary hike. There's a 39% increase in the chance of you being able to shift organizations and job profiles. The average MBA salary in the US is around $107k, which is a huge sum of money.
The cost of an MBA varies significantly depending on where you study. The average total cost of a top-ranked, full-time MBA program in the US is US$213k, while in Asia it's US$98k.

In India, for an average family, MBAs are very expensive. The top IIMs charge around 24 lakhs. The top management institute, ISB Hyderabad charges around 35 lakhs per year. Agreed, the fees are exorbitantly high, but it's been observed that most MBA graduates can pay back an education loan taken for an MBA in 3-5 years after completing the degree. So, the Return on Investment seems to be very high post MBA

In Europe, universities like INSEAD, HEC, LBS, IE are the top runners. If the finances permit, these are amazing universities that are worth applying to and studying at.

Usually, for doing an MBA, having work experience for 2-5 years is something universities have mandated. However, there are new programs that colleges like INSEAD offer known as Masters in Management(MiM). MiMs do not require work experience and can be an early kickstart to your management career. Of course, they will not be as lucrative as an MBA as per experts' research.

Another option of MBA while pursuing undergrad is a deferred MBA. Applications open around January. In this program, you can get an MBA admission in reputed universities while studying itself, and join the university after 2 years of working. Sounds like a great plan doesn't it?

Other options to explore are part-time MBAs and online MBAs. Of course, they won't give you the same exposure as a full-time MBA, but it's something to consider if you have other commitments simultaneously.

An upcoming course in multiple European and American colleges is the Masters in Engineering Management degree. This course covers analytics, finance and leadership domains with an engineering mindset. This is a very attractive opportunity for Indians who are looking to not shift careers completely. The most prominent universities that offer this program are University of Southern California, Purdue University, Stanford University, TU Delft, University of Manchester and University of Michigan. This is one area which you can definitely look into as they dont require work experience for admits.

To make things easy for all of you, Pulse NITK interviewed a few alumni from NITK, who have taken up different programs. They'll throw light at the reasons why they decided to apply for such programs
Samvid Kane, Batch of 2021, Deferred MBA Program at ISB Hyderabad
1. What made you shift your focus to management?
I actually wanted to pursue a career in management since I was in school, but chose to get an engineering degree primarily because of a scarcity of good management options at the UG level in India. Further, I felt that a technical background followed by a management degree would open a variety of career paths. It wasn't really a shift in career paths in my case, as I prepared for this since the start.
2. How did you go about preparing for CAT, GMAT and other exams?
I took the GMAT in March 2020 when I was in my 6th semester. After a little more than 2 months of preparation, I wrote it and fared decently. I had enrolled in a self paced online preparatory course and refered to free resources on GMAT Club and the GMAT official guide. I focused on both the quant and the verbal section equally and took about 10 mock tests before the actual test.
3. What are your plans after completing your MBA?
One advantage of receiving a deffered admit is that you get 2 years to explore the diverse post MBA options. I am in that phase right now. Consulting, Statistical Finance, General leadership and Strategy roles, to name a few, seem very promising to me at the moment. I'm still exploring my options
4. Any advice to current NITK B.Tech students?
Start early. Look at probable and favourable career paths post MBA before you commit to one. If you have decided to pursue a management degree, focus on building a relevant profile in college. Getting your GMAT/GRE out of the way in the 6th or 7th semester will make it easier for you to focus on other important aspects of your application like essays. Stay calm and enjoy the application journey.
Rujuta Kelkar, Batch of 2021, Masters in Management at INSEAD, France
1. What made you shift your focus to management?
To be candid, it was the multiple business events in my first year that sparked my interest. I enjoyed those events a lot. Post that also, business interviews for clubs and a bunch of relevant open electives and internships made me feel like this was for me. Hence, I decided to pursue this path.
2. How did you go about preparing for CAT, GMAT and other exams?
I didn't write CAT, wrote GMAT as I wanted to go abroad. I prepared from a variety of resources : GMAT club, GMATninja on youtube, a few books from Kaplan and ManhattanPrep. Pdfdrive.com is a website which has all these resources for free.
3. What are your future plans after completing your MIM?
I Want to get into Marketing/Product Management. I have done several internships in this domain and thus, I decided that this is where I want to be a few years down the line.
4. Any advice to current NITK B.Tech students?
Don't choose management just because you hate engineering. Work for a while if you're confused. If you truly enjoy business then go for it. Engineering skills are necessary if you have to manage products and teams. Engineering+ management is a lethal combination only when combined together in my opinion. Have some leadership roles since they almost always matter, and do a few relevant internships if you can.
Hem Maradia, Batch of 2017, MBA at IIM Lucknow
1. What made you shift your focus to management?
I needed to get into Product Management domain. With my current work experience, I realised that the best way to move ahead in my career was to become good at product management, and doing an MBA is the best option to go forward. Thus, I decided to write CAT and look at IIMs as my goal.
2. How did you go about preparing for CAT, GMAT and other exams?
For CAT, I never went for any coaching. I prepared completely by myself. I spent quite a while to get my basics right. I took a lot of mock tests. That's the best way to prepare in my opinion. I did not gve my GMAT as I decided to study in India.
3. What are your future plans after completing your MBA?
As I said earlier, my objective is to get int product management. I am searching for opportunities and companies that are hiring for these roles
4. Any advice to current NITK B.Tech students?
Play to your strengths and be passionate, rest all will fall into place. MBA is a huge career jump. Make sure you know what domain you want to get into post-MBA as well. It's not a salary game.
These interviews from alumni should be helpful to decide which management career path might be suitable for you. Students in 3rd year will have to take their time now to finish off their relevant exams and make their decisions. An MBA can be done at any point in your career. It's extremely fluid that way.
There are many websites online that offer counselling for people who are in a dilemma regarding their future in management. Mimessay, shiksha, mba.com etc,. are a few places where you can start.
We at Pulse NITK hope that everyone who wants to pursue management in their future gets where they want to be. We wish you good luck for your future.