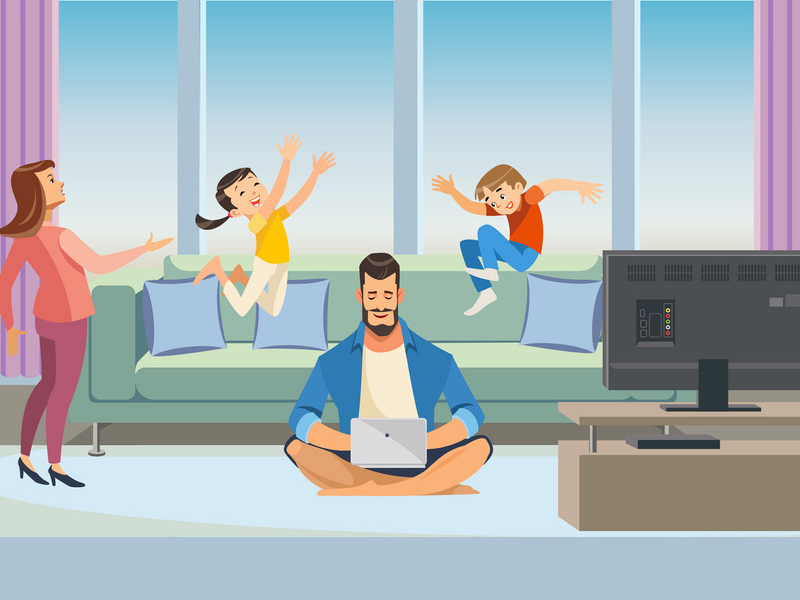 Work is not always easy. It's hard enough to wake up early and run to your office and 8 in the morning, but it's going to be tougher, waking up at 7:45, and starting work, with your comfy bed right next to you.
Due to the current circumstances of COVID'19, almost everyone across the nation and globally has been asked to work from home (WFH) and either in terms of work or learning a new skill, we've all been pretty let down on our dreams this summer. Working from home is something that everyone is experiencing first-hand and some for the first time.
Here's an insight to the novelty of working from home or doing an internship from home.
It's not always fun and games.
"We are social animals. People like to come to office. There's an emotional angle to coming to work and meeting people"
– Madhavi Lall , Head, Human Resources Deutsche Bank India.
Work from home can go two ways. Either there is a major decrease in efficiency or there is an increase in productivity. The knack to working from home, as told by many of our alumni, is that you have to create a warm workspace for yourself where you can focus and remain calm.
The infrastructure at the workplace is more professional and gets your mind inclined to do work, which is quite a difference from your surrounding at home. But working from home is not easy. Even though you are at home, working continuously can tend to stress and it is important that one takes breaks and a few walks to relax.
Working with your team and working alone is a tough transition. Multiple video calling applications have opened up, and though these applications do make working together easier, the emotional and social interaction that takes place in the workplace cannot be simply replaced.
Certain professions that require a high level of confidentiality may also be facing issues on their privacy and continuing their level of discretion has become much more difficult by working from home.
Work was also more organized within the office, with planned timings given for breaks etc. working at home, in contrast, may stretch the work out to take longer than It would in the office, and thus the reduction in efficiency and time management. Common power cuts that tend to happen can also disrupt the continuous work flow, and thus decrease productivity.
"An all-remote setup would be replacing one dogma with another dogma"
– Satya Nadella, Microsoft CEO
Albeit these circumstances, productivity can also strongly increase during this season of working from home. As Times of India have stated, working from home changes the nature of meetings. Office meetings are constrained by a physical environment, where WFH meetings will be quick and shorter. Flexible hours for work also helps you work when you are at your most focused. One can also save up money as well as countless time on commute to and fro from the workplace, and thus WFH has come out to be a preferred and ideal option to various professionals.
Working from home has found to be much less complicated for the IT sector in comparison with jobs involving working in the field of mechanics, or any work involving traveling or requires being outside, in which case, working from home has become tougher and is a job not completely through.
Smart home working may also give space to more time for emotional connect with Family and relatives which are equally important for one's good health and well-being.
Working from home also helps put life and relationships in perspective.
At the end of the day, I believe that the entire nation is going through tough circumstances, and if we are surrounded by family, if we still can work, and maybe even though our plans for the summer didn't work but if we are safe, ultimately, we should feel blessed.
Maybe this year wasn't meant to be our year but we can always try again next year.