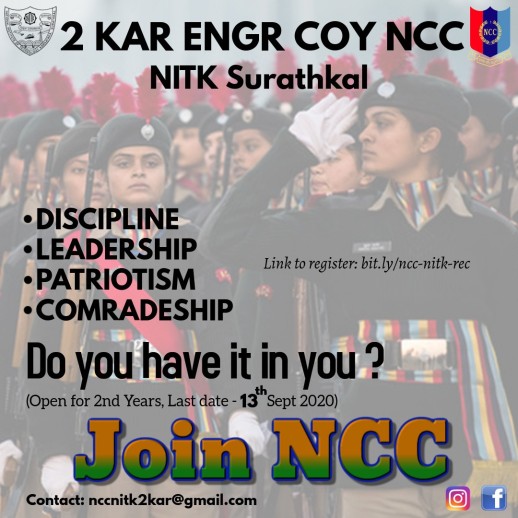 बड़ा हो के देश का सहारा बनूँगा
दुनिया की आँखों का तारा बनूँगा
रखूँगा ऊँचा तिरंगा परचम
नन्हां मुन्ना राही हूँ, देश का सिपाही हूँ
बोलो मेरे संग
जय हिंद!
Ever looked at our soldiers and felt proud? Ever wanted to contribute to your country?
2nd year students, here is your chance to join to serve the country and prepare to walk in the footsteps of our brave warriors. Learn discipline, survival skills and command a troop with us. With a newly inaugurated firing range, experienced trainers and enthusiasm, 2 KAR ENGR COY NCC welcomes dedicated students to join our force.
Last Date to Apply: 1700hrs 13Sept 2020
Link for registration: http://bit.ly/ncc-nitk-rec