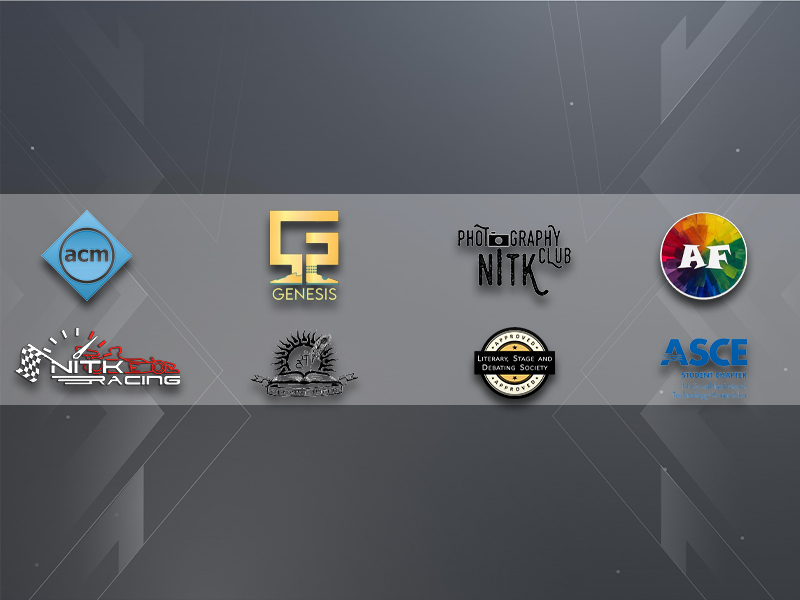 Club convenors/Captains in order :
ASCE NITK : Sudeepthi Nalla
HESC NITK : Abhay Mishra
ACM NITK : Yash Kumar Gupta
Photography Club NITK : Pabbisetti Anirudh
Artists' Forum NITK : Shreehari M
Genesis NITK : Jiffina James Patrick
LSD NITK : Shreyas Bhat
NITK Racing : Vehan Doshi
Q1. How did the pandemic affect club activities (both internal and external) over the previous two semesters? (Can include events, projects, meets and other activities)
ASCE NITK: Civil engineering is more of a hands-on field, and so are the events and activities. Thus, club projects that are civil specific would've required labs at college. Coming to meetings: It would've been a lot easier to meet up in the department itself immediately after classes. It missed the personal touch and bonding we could've had if we were in college. It sure was a rough transition from offline semester to online, but it has genuinely shown scope for many new things. Technology's been embraced in many unique ways, from having meetings online to learning new and necessary software. We're now having talks by experts proficient in their fields thanks to technology! The online semester made it possible for us to pull off an entire summit for the first time effortlessly. We could have the expert lectures directly without worrying about the speakers' travel reimbursements or differences in time zones. Participants from all over India were able to participate in the events of the Civil Summit- Nirmaan 2021. It was an adventurous experience for all of us to think of ideas and events and heterodox alternatives as a club.
HESC NITK: Pandemic has affected club activities adversely! Events like the Rangoli competition and cultural dance events became tough to organize virtually. We were forced to switch our setup to online platforms for other events like 'Open Mic' and writing skills competition. But it proved to be a boon, as we could launch our site and improve our engagement on our social media platforms. Even with informing the students well before our events, the audience has been scant lately (due to ignorance or overt misinformation). But we're hopeful for the best!
ACM NITK: The shift to an online environment was quite challenging initially, but the club members deftly adapted to it post brainstorming and discussions. The virtual setting proved to be beneficial in many ways. While some projects in Special Interest Groups were hindered by the pandemic owing to the need for hardware components, many others successfully adapted, relying on software and simulations. One of the positives was getting guest speakers from worldwide, leading to the Distinguished Speakers program being a big success. Naturally, the uncertainty of timelines did hinder the organization of events but overall, doing it in a virtual scenario was just as exciting and fruitful as on campus.
Moreover, being at home saves time on travelling. Members had newfound extra time to focus on their interests, leading to creating several interest groups in ACM, which kept members engaged and helped them bond with each other in these troubled times. However, the latter can still be a challenge sometimes across batches. But we at ACM believe in ourselves as we look forward to a fruitful year!
Photography Club NITK: We all witnessed how badly everyone was affected by the pandemic. During the offline semesters, we covered college events and made them publicly available. Alas! The pandemic made it impossible now, and the club members are limited to work on specific categories only!

But there are two sides to every coin :

Pros: Instead of mainly focusing on photography, we also worked on photo editing, video editing/making and designing. Our club members improvised a lot in these fields. We started showcasing our club members' works and portfolios every week on our Instagram page to boost their enthusiasm for photography.
Cons: Where do I start? We have an annual flagship event called "EXPOSE" (Incident NITK). We organize a photography competition called FRAMES and display the entries during EXPOSE. This time, we did face difficulties in showing those pictures online. Nevertheless, we managed to organize the competition successfully. Later, we also held a Photo Summit where eminent photographers like Dheeraj Khandelwal, Nikhil Pal, and Vinay Bhadrisetty gave their insights related to photography

To encourage the photography enthusiasts, we held theme-based photography competitions like NEW NORMAL, FOTO FRIDAYs etc.
We taught the club members how to create social media creatives such as posters, promo videos, etc., through various KEPs. As part of this, we made them create content related to the basics of photography and posted them under a new series called PHOTOGYAN on our Instagram page every Wednesday.
Artists' Forum NITK: The pandemic did adversely affect the club activities as most of the activities and events conducted by AF were physical. Be it our flagship beach-festival UDAAN, the major project wall mural or any other event we planned to conduct, they were all unfortunately brought to a stop. It was difficult to maintain the club-engagement but AF was always and will always be a tight-knit family, always there for each other, and even though the pandemic hit us hard, it hasn't stripped us of our love for art and for each other.
We did manage to conduct quite a few workshops and events for freshers virtually and fortunately the turnout was really good and the events were successful.
Our major project the previous year was the Artists' forum NITK website( af.nitk.edu.in) launch. The website portrays the artworks of club members, blogs and showcases the other activities of the club such as the recruitment and more. That I believe, was a great accomplishment for the club, and definitely got the club working more closely together.
Genesis NITK: As dancers, we often rely on having teammates to push us and work together to create/perfect a routine, and due to the ongoing pandemic, it does get too lonely to be doing all that alone especially when the crew literally feels like family.
Moving to google meets definitely reduced the amount of time each member devotes to dancing. The previous core had a lot of plans with regards to expanding the team and using the talent within the members to create a name outside of college. The virtual setting made it much more difficult to bring that about, keeping everyone's health in mind as well.
LSD NITK: As I'm sure all the other club cons have already expressed, last year was an extremely challenging year for us. The heart and soul of LSD runs on a creative itch within all its members which is best expressed in an in-person setting.
That being said we did manage to pull off an interesting ensemble of events to keep our members and all interested folks in campus engaged. Be it the Table reads organized by our Stage sig; The variety of quizzes with topics ranging from classics like MELAs to Memes and Vices by QuizSoc; The Scrabble contests organized by LitGig, Intense Debates organized by DebSoc or even the Film discussions held by Filmmakers Guild overall our year was quite busy. Last year we even managed to pull off our first-ever Literary Fest "Fineprint" which received participation from all over India.
NITK Racing: The pandemic has hit us quite hard in terms of both fund generation as well as manufacturing of the car. The major motivation that galvanizes the team is being able to see the car run, and not being able to do that makes it quite difficult for us to keep the motivation up, especially amongst the juniors.
The batch of 2022 is also the last batch that has hands-on lab experience. Not being able to train our next batch with the same can result in a huge setback for the team.
Though the challenges are plenty and the ongoing pandemic doesn't seem to come to an end, we have utilised this time to pivot our focus to theory, networking with alumni and graduating our transition to an electric vehicle team.
Q2. Next two semesters are mostly online, how do you plan to address the difficulties faced and lead your club?
ASCE NITK: We are going to completely exploit the possibility of the following coming semesters being online.

We are going to focus mainly on two things this year :

The internal and external relations, inclusive but not limited to internal members and other ASCE Student Chapters
Not compromising on the technical aspect of the club.

These two aspects could make a lot of difference in the long run. An online semester provides a perfect medium/stage to achieve them. The online semester has made it easy to conduct as many events and expert talks as possible without worrying about the comfort of the speakers and students. Ranging from the comeback of Nirmaan 2.0 to the new blog series and forming alliances with other chapters, we plan to put many new things into motion. It'll make it easier for the coming batches of ASCE NITK members to deal with both online and offline scenarios.
HESC NITK: We, fortunately, have had some experience with the ongoing situation. Thus, for the upcoming semester, we plan to replace events with ones having the same essence, for example, the Rangoli competition incorporated along with a poster making competition and many more! We plan to organize new events like article writing and essay writing on our newly launched website. The club aims to maximize our efforts and commitment while ensuring the new working culture stays uncompromised and accounted for!
ACM NITK: Having just spent an entire semester online, we've adapted to the online mode quite well and even become rather adept at dealing with it.
Issues concerning projects and hardware components were dealt with properly to produce effective results.
We plan to do more internal events this year to help our members learn more, prepare for internships, placements, and pursue higher studies and keep us all engaged. Internal affairs like Knowledge Exchange Programs and guides for internships and placements have already started. The transfer of knowledge across batches is vital, which helps enhance and encourage bonding within the club. The online semester does give us some extra time to focus on our interests. ACM NITK looks forward to boosting our community bonding and continue doing activities to help our members flourish in their respective fields of interest!
Interaction within the club becomes much more challenging than just meeting up in college. We will address this issue and focus on building a solid rapport and initiating fruitful interactions among club members.
We plan to make optimum use of the virtual setting, such as continuing with guest speakers and, of course, our extensive alumni network from across the globe.
Photography Club NITK: We are increasing internal interactions by conducting mandatory meets on the first Saturday of every month where the members of the club share and discuss their ideas. Also, we discuss the work to be done that month during that meeting.
Like last year, we are also trying to plan activities and competitions to encourage photo-enthusiasts.
ARTISTS FORUM: I aim to try my best to keep the club as active as possible for the upcoming year. It is important that the engagement is maintained and each member gets to feel the essence of AF. We are planning to work on the ideas that we haven't executed the previous year and hope to implement them this year, as well as coming up with fresh innovative ideas to add on.
GENESIS NITK: Being a very physically active club, we are aiming to try and incorporate dance in our lives even if the crew is on a screen! We've had interactions with all members right after core transfer to understand their expectations from the club and ideas for the upcoming semesters.
The core has taken initiative to act on these inputs; working on styles & technique, pushing for original choreographies, interacting with each other as well as helping each other improve!
We're also trying to improve our media outreach and compete with other college crews to get inspired and gain experience.
LSD NITK: I believe that by now all of us have adjusted to this "new normal".
Last year was challenging because it was the first time all of us had to deal with such unforeseeable circumstances.This year we have "experience" as our guiding light so I think we can make it an even more impactful experience for all of NITK.
Apart from all the events pulled off last year we are also actively looking at ways we can "simulate" the chill vibe that all of our 4th and 3rd year members have experienced in our offline years.We don't want the upcoming batches to miss out on the beautiful experience that LSD was for us and we hope to carry on the many traditions that make us "NITK's one stop for the creatively inclined."
This year our core members are an extremely talented bunch of individuals and I have full faith that together we can pull off a legendary year.
NITK RACING: The competitions that we have participated in the previous year, such as Formula Bharat, FSEV, have transitioned to a virtual setting. Working for these competitions has kept the club engaged and busy.
Our team is also in the process of building an electric vehicle by the month of November in 2022 and this does bring forward quite a lot of new challenges for the team.
We have also organized events like IGNIS in the previous year which received much appreciation and were fun to conduct, we are definitely looking forward to conducting more such events.