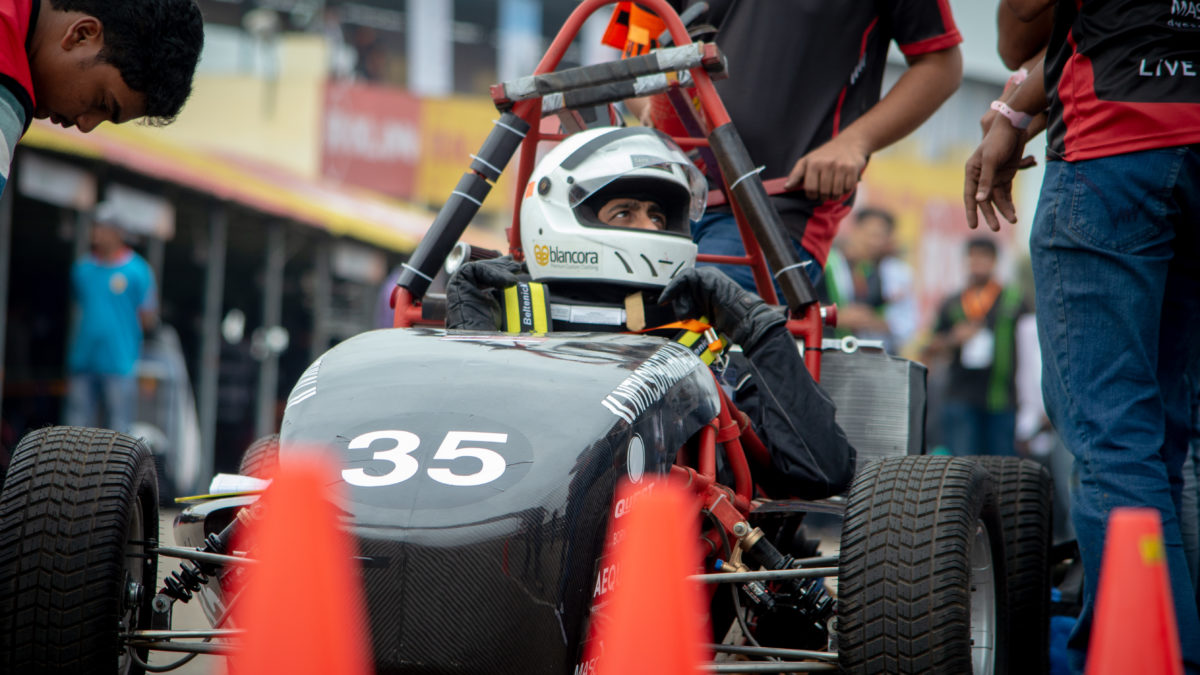 We kicked things off this year by participating in India's biggest and toughest Formula Student competition. For those who don't know- we at NITKRacing build our own formula-style car and compete in national and international formula student events, against teams from colleges and universities around the world. This year we went to Formula Bharat, conducted at the Kari Motor Speedway, Coimbatore, Tamil Nadu. After a year of extreme hard work and a host of sleepless nights, we built our contender, the NR20. As we took it to the racetrack and set up our pit, we knew that the next few days would be extremely busy too.
When people hear that we build a racecar most immediately assume that what we do in the competition is race on a track against other such cars. What actually happens though is much more nuanced. A team is judged not just by how fast it is or how skilled its driver is. Formula Student is about creating a prototype open-wheeled formula-style car that can be mass produced and be part of a solid business plan. To know more about the categories which we compete under in Formula Bharat, do check out the post-competition edition of our newsletter-https://drive.google.com/file/d/1fYblq0MHh3vjKbPv2Sh79xKEhyhmWp7m/view?usp=sharing.

---
OUR EXPERIENCE AT FB2020
Needless to say, we learnt a whole lot during our five days at the speedway.
We arrived after taking an overnight train to Coimbatore from Mangalore and checked into an available hotel (rooms are a little hard to come by during this time). From there it was an hour's bus ride every morning to Kari Motor Speedway, Chettipalayam. Understandably many used this time to catch up on whatever sleep possible.
On the first day we set up our pit, arranged our tool boxes, tools etc and got to work making our car ready for technical inspection. Like a well oiled machine, each team member set about executing their tasks.
When you work on something as complex as a car, things are bound to not go according to plan. It is the job of the concerned persons to figure out ways to deal with it and take it in their stride. On every single day we used to work this way to achieve our goals, be it the marketing team preparing to deliver the business plan presentation, the media team documenting FB'20 and the experience as best as possible, or the technical team preparing for the next step in the competition and making sure that the car functioned smoothly as intended.
Each day began with us reaching the speedway as excited to be there as ever, and each day ended with another bus ride back to Coimbatore with a list of tasks to be accomplished by the next day. Everyone had their work cut out for them every single day, yet it was only a pleasure to work. When you see a relentless group of people working together like a hell of a team, the fervour is infectious. And the passion is very much palpable.
But there are frustrations as well. In the end we stopped short of reaching our goals, yet we did achieve more than before. We got placed as the 10th best in the Business Plan Presentation event, 20th in the Cost and Manufacturing Report event, cleared Mechanical Inspection (this was a testament to the mechanical soundness and safety of our car) and the Tilt test (proof that the car could handle the forces and acceleration of high-speed cornering). We also had the chance to meet and network with some impressive teams at the event.
As a team that is starting to get into its stride and reconciling itself with its past glory, we only promise better things in the future.
LIVE TO RACE
We at Team NITKRacing would like to thank our sponsors, the ones who make it possible for us to follow our passion:
Our college's very own Centre for System Design, Quest Global, Aequs Aerospace, Mascot Dynamics, Research India, Greenly Synergy Automatics, Infineon Technologies, Rever Industries, KT A. Nairsons Industries, CF Composites, and MyPitcrew.