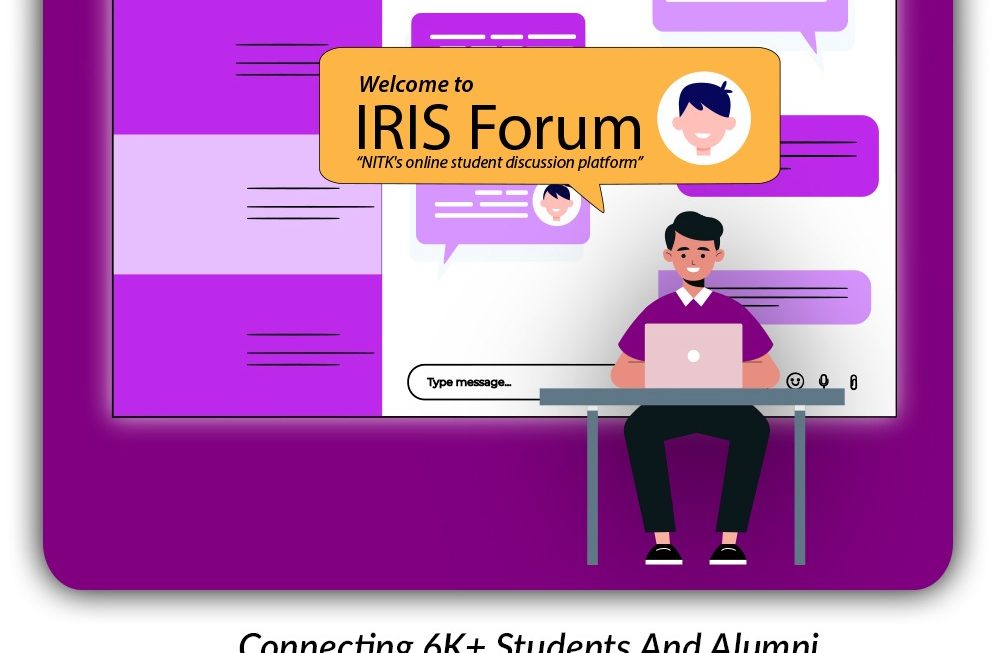 College is all about finding answers to questions. While some of these answers leave you with an upset stomach, some probably have long term ramifications. Finding these answers through your own experiences alone is hard, but imagine being able to draw from the experience of the NITK Community. When we mean community, we don't simply mean your batchmates or even your seniors, imagine learning from our alumni as well!
Now the obvious "question" is, how do I join this community? This is where the IRIS Forum comes in. IRIS  is our attempt to build a community driven discussion platform to have healthy and insightful discussions with your peers. NodeBB is a leading forum software which has been closely integrated with IRIS to create a community platform.  
While we may be calling it a forum, it's truly a pathway to enter into a new world of ideas and opinions!
Speaking of opinions, we've interviewed certain people who have conceptualized, designed and developed this module and others who would be instrumental in the day-to-day functioning of the Forum, to get a better understanding of why we need the Forum and how exactly it should be used!
Govind Jeevan
(IRIS Team Lead 2019-20)
A degree from NITK is only as good as the people you meet here. The free flow of ideas between students, the chance meetings at the pavilion, the 1 AM gyan sessions over plates of NC food – these are aspects NIRF rankings don't capture, but it is what makes NITK thrive.
IRIS Forum is an effort to revitalize NITK's core strength, the collaboration between it's students. We hope you will find it a platform to share your thoughts, engage in discussions about NITK, academics, career, how to navigate the circus of your degree, the meaning of life… whatever may be your purpose – as long as it's civil, it is welcome.
Shashank S
(IRIS Admin Lead 2020-21)

In the past few years, we quickly realized that we needed a new mode of communication to bridge the gap between IRIS and the community. The Forum is our answer to this problem. Not only is it easily accessible and self sustainable, it would also serve as a platform for engagement between like minded individuals.
Guhan Sidharth M
(IRIS Head of Product & Product Manager, Forum)
The best offering of this product is that it bridges the gap between students pursuing bachelors, masters and Ph.D and also connects people involved in multiple domains such as management and engineering. Moreover, from my experience of having handled the product since the initial stages and being a person privy to future plans, I can assure one and all that it is only a matter of time before the Forum becomes successful in engaging all the students of NITK. The Forum requires three ingredients from all its users – their original ideas, responsibility towards the community and discipline in following all the rules and community guidelines.

Rebaka Sai Mani Pradeep
(NITK Student Council General Secretary)

Communication centers play a significant role in all of the variables found to impact college life such as students' academic performance, communication competence, interaction with other students and alumni, and involvement in campus activities. The IRIS Forum has been introduced with the objective of establishing these communication centers along with great efforts to associate every student with the NITK community. Kudos to the entire team!
About the Forum
The first version of IRIS Forum has the following channels:
Forum Announcements
Academics
Everything IRIS
Higher Studies
Student Life
Hobbies
Student Council
Learn More
To know more about the rules and regulations, the sign up procedure, using the Forum and the future plans, take a look at the IRIS Forum blog.