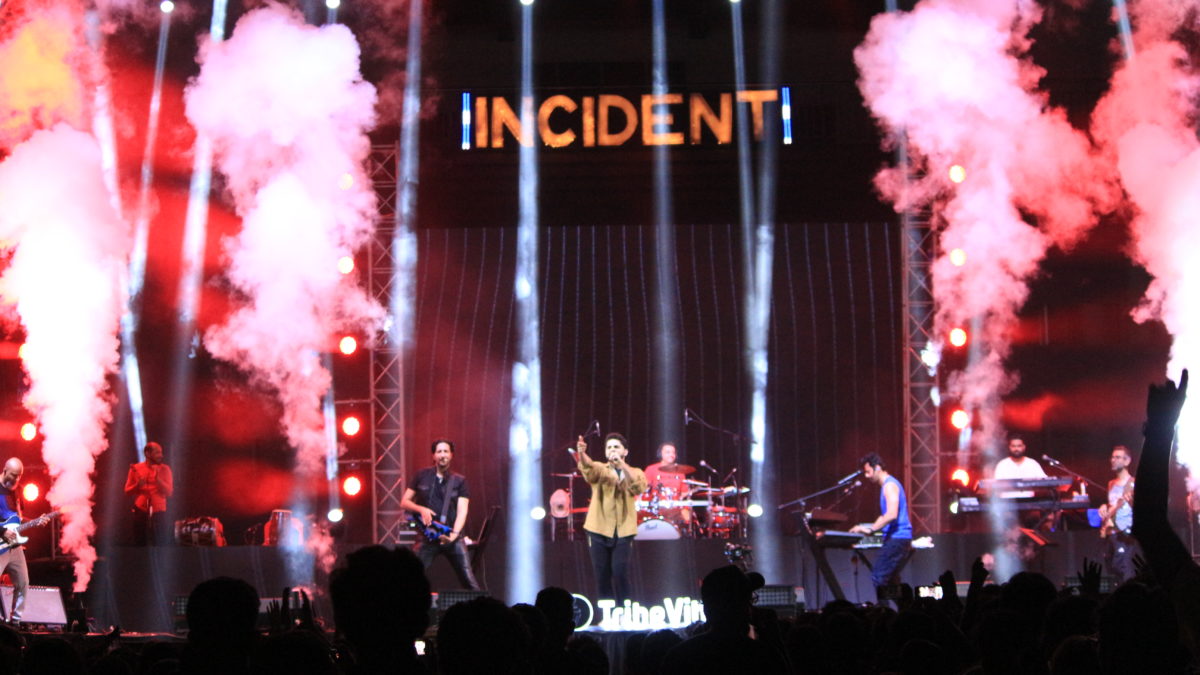 Message from the Incident 2020 Convenor
Incident 2020 is a dream we saw in 2017 after working for that year's Incident as first-year volunteers. We wanted Incident 2020 to beat that and actually put the fest back on the national scene.
Beginning of the year we started with full enthusiasm with marketing and the target we had clearly set in our minds. All of us had decided to reach the 8 digit figure so that we could fuel all our plans. Soon, we realized that the market was down and getting big sponsors were hopeless. We attended the NITK Alumni Global convention in December and a week later, we confirmed Reliance as our major sponsor and that was a huge morale boost for the team. By then, we realized we had to change our strategy and we started targetting thousands of companies for smaller amounts which actually worked in our favor so much so that we got Hutti Gold mines, LIC and Superman energy drink as our sponsors with just a few days remaining for the fest.
Parallelly we had another task at hand i.e planning what the fest will have and where it'll happen. At this point, I should mention the additional support we received from the college to make the fest grander as it was Diamond Jubilee year of NITK. So this is where we decided that the pronites should happen in Main Ground and according to this, we came up with an amazing venue plan to concentrate the festivities in a zone so that people can go check out all the activities. Thanks to TribeVibe, our title sponsors, together we came up with the greatest artist line up NITK has ever seen. Once this was set, we started focussing on increasing day events and make the fest more interesting. Staying true to our theme, we revived World Fest, Kite festival, Street Play competition and introduced Adventure Zone.
As we came closer to the fest, everything started falling in place and our only task at hand was execution. It was a big risk that we took by completely revamping how the fest looks and required more efforts from our side to realize it. Increased and more complex stage production and setup, huge pressure on the hospitality of the artists as we had to look after 3 bands, making sure we deliver our promise to our sponsors, complications with the admin, decorative vibe of the fest were a few of the challenges. Mistakes are bound to happen when we suddenly scale up and try something new but I had an amazing team that dealt with all these and it was quite rough at times but we are glad that the end result to our audience was more than satisfying.
To conclude, I can proudly say that we did reach our target, realized all that we planned maybe not exactly the way we planned, the fest was well received by our audience and the admin and Incident 2020 regained the title of South India's 2nd largest college cultural fest and we hope to see it become first in the coming years.
Regards
Sachin V Acharya
Convenor

Opening Ceremony
Incident 2020 began on a high note as the sun set on February,27th. The opening ceremony was held in the SJA which was filled with people. From excited freshers who were witnessing it for the first time to final years who were nostalgic about their last Incident. The ceremony was opened and graced by the Dean of Student Welfare, Prof Jagannath Nayak. There were some amazing dance performances by the Dance Crew NITK. It was heartwarming to see some small children from NITK School performing a skit on tiger protection and conservation. Among the esteemed guests we had Diganth Manchale, a Kannada actor and former model famous for a number of movies in the industry. The audience were left speechless and bamboozled by the mentalist, Ranaditya Sengupta. Finally the night ended with the stand up comedy by Aakash Gupta.

Lit events
The Literary, Stage and Debating Society organised some amazing events for Inci. As a part of the club, the Debating society organised 3 never before held events which received a lot of applause and interest. The first event was a series of Change my Mind topics, ones which engaged the audience by asking them to go against the speaker on rather controversial topics like abolishing death sentence for rapists to banning Abortion. There was a lot of interest and some amazing arguments which ensued. The event was unique because it allowed people to openly discuss topics which are considered taboo even in today's society.
The next event and possibly the competitive event with the largest footfall- the Just A Minute or JAM was organised by the esteemed and revered JAM master, Hormuz Ragina! It was amazing how he managed to convert a JAM into a humorous and remarkable event where people were tearing with laughter. Not only were the participants put in tough and sticky spots, but the audience were involved as well. 
Lastly the Marvel fandom MUN, a rather unusual and different event which was carried out for the first time. Instead of assigning countries to participants, they were allotted characters from the Marvel fandom and instead of having a fixed agenda a crisis story was spun around the Infinity gauntlet and some powerful characters in the Marvel comic universe. The MUN ended with some god like feats by characters and some very simple logical decisions by some brainiacs. An extremely engaging and fun one day event ended with a comprehensive working paper. All 3 events were carried out in a smooth and remarkable manner gaining the interest and admiration of many. 
Coming to quiz events, Then and Back Again – A History Quiz was conducted by renowned quiz master Major Chandrakant Nair as the first quiz of Incident 2020. The quiz saw participation from numerous students from both NITK and other colleges across India.The winners of the quiz were from PES University, NIT Trichy and Surathkal.
Next up, the General Quiz, once again conducted by  Major Chandrakant Nair was a huge success. It was a huge event with a large number of participants. Major Chandrakant Nair handled the quiz beautifully and the quiz in general received a ton of compliments.The winners of the quiz were from PES University, NIT Trichy and Surathkal.
Finally, the Lone Wolf Quiz, a rather self explanatory quiz, was conducted by the ex-convener of Literature Stage and Debating Society,NITK Dhruv Warrior. Since this quiz was conducted by someone revered and loved by everyone at NITK, it is needless to state how successful and engaging the quiz was.
The LitGig conducted LitPourri, the first ever online literary event! Participants from the length and breadth of the country participated in the same. There were multiple events in LitPourri ranging from two long entry categories – Mirage and Ripples across Time (max 1500 words) and two short entry categories – The News that wasn't and Sy(nope)sis (max 300 words and max 100 words respectively). The event was open to anyone and saw wide participation from college students from all across India and some NITK alumni as well.
InciTalks
The topic of this year's Inci talks was- "SHEroes of India". Many famous and renowned women from a diverse background gave their views and offered insights to a captivated audience. 
Henna Jayantha spoke about challenging stereotypes prevalent in our society even today.She went on to recount her experiences of how she played for the Under-19 Kerala cricket team and later on became a racer in F4 born from her passion for cars. She reiterated how racing, although not considered a woman's profession, was still something she pursued on account of her sheer will and interest in the same. She also met the FSAE and BAJA teams of NITK, Surathkal, giving valuable insights and experiences while engaging with all the members of the teams.
Next up, Nikita Sharma spoke about the importance of focusing on your goals and not letting society decide who you become. She spoke about how people used to compliment her body and how they encouraged her to go on diets and she later realised that her health is more important than society's validation. She emphasised on not worrying too about the problems in your life and on facing them with a broad smile.

Next, Aranya Johar, a hardcore feminist and womens right activist recited poems echoing her beliefs far and wide on patriarchy and misoginy. She inspired girls within the audience to go against societal pressure and fight for what was rightfully theirs without being afraid of the consequences.
InciTalks also featured an interview with Prajakta Koli, a cheery and famous YouTuber. The audience simply loved her energy, enthusiasm and humour. She took a lot of questions from the audience and gave some valuable suggestions and tips to content creators.
Music events
Incident 2020 had 4 music events spread across all 3 days. On the first day we had Unplugged, a western Acoustic band competition and Raaga Rhapsody, the solo vocals competition where participants compete for the title of the "Voice of Inci". On the second day,we had Pulse, a semi-professional Western Rock band competition. Finally on the last day of the fest we had Bandish, semi-professional Hindustani and Carnatic Rock band competition, to re emphasise the fact that no one rocks better than our own desi guys. Unplugged was judged by esteemed judges, Melroy Furtado and Rynel Sequeria, two extremely well established and popular figures with a huge social media following. Pulse on the other hand was judged by Manoj Lobo,Sasha Lobo and Sherwin Maben who are also well reputed and popular figures in the field. Lastly Bandish was judged by Ian, Loy, Patsonnn of the Band Charitra. All the events received huge footfall with a lot of participants and spectators. Winners were from NIT Calicut, MIT, Father Mueller, St Aloysius, KLE and of course NITK Surathkal.
Dance Events
Dance events is one of the flagship events held during Incident. This edition of Incident saw the addition of a new event namely "Nritya", solo eastern and contemporary dance competition. A huge number of participants attended these events. This event attracts a huge crowd as well and this year was no different. The Silver Jubilee auditorium was full with the audience cheering for the breath-taking performances put up by different teams.
The dance events were conducted on two separate days during Incident. On day 1 February, Nritya and Tandav presented by Canara Bank were conducted in the Silver Jubilee Auditorium. Nritya is a solo eastern and contemporary dance competition, whereas Tandav is a group eastern and contemporary dance competition. These events were judged by Ms. Seher Noor Mehra. Seher Noor Mehra has been dancing since the age of nine and has also completed her Arangetram. After graduating from Lady Shri Ram College, she continued training in Bharatanatyam under Dr. Saroja Vaidyanathan & Guru Jyotsna Shourie and has also received extensive training at The Danceworx and Imperial Fernando Ballet Company, New Delhi. She has also trained at Attakkalari Centre for Movement Arts, Bangalore under their accomplished Diploma course.
On day 3, the other three competitions were held in the silver jubilee auditorium. These events were held in association with Hip Hop International India, as a part of the Surathkal auditions through India Hip Hop Dance Championship 2020. It included Step Up Solo, Step Up Duet and Promenade (semi professional western group dance competition). The events were judged by Mr. Shiv Narayan, Choreographer, Choreo culture international dance studio, Navi Mumbai. Choreo Culture was the Gold Medallist in Dance World cup Canada 2017 at Whistler, Canada. They represented India in the World Hip Hop Championship USA, Las Vegas, Nevada 2016. They also showcased performances in Indian Hip Hop championship- National qualifier for World Hip Hop Championship 2016,2017. Shiv was a part of the show Rumjhum on National Television in 2013. He has worked with Badshah in the song 'I wanna be free' feat Major Lazer. He has been a judge to various dance competitions. Through these events, participants were selected for the next round of HHI competition.


Participants from various parts of the country participated in these events. There were participants from Goa, Kochi, Hyderabad, other than the different parts within the state itself like Hubli, Bangalore, Mangalore, Manipal, etc. The total footfall for these events were collectively 800+ participants.
The total prizes for all these events were worth 1.56L. The winning participants were awarded with exciting goodies from Nivea, Wildstone and Gatsby along with the cash prize.
Dance events were definitely one of the remarkable events held during Incident 2020 with a number of spectacular performances by the teams and a lively audience cheering them constantly.