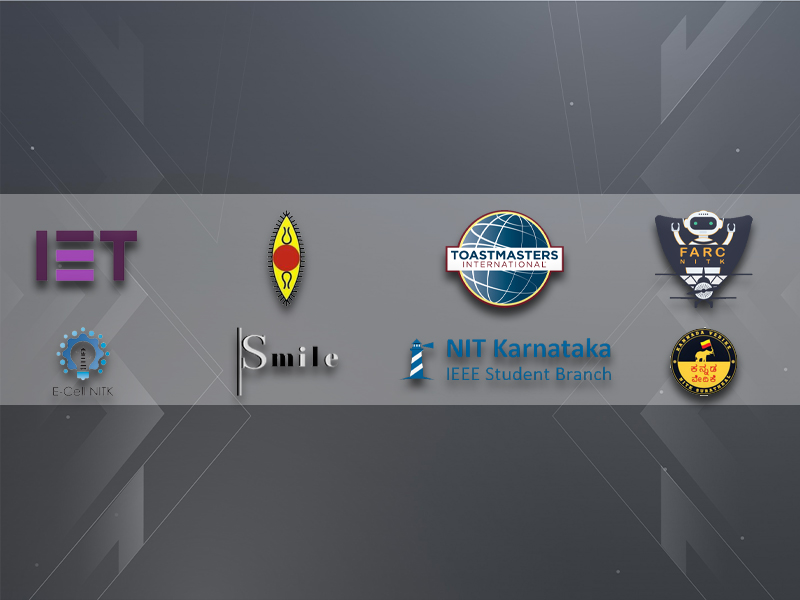 Q1. How did the pandemic affect club activities (both internal and external) over the previous two semesters? (Can include events, projects, meets and other activities)
Kannada Vedike NITK:
It's been hard over the past two semesters. Most of our events were recreational, so we couldn't interact much with our juniors. Initially, we used to plan to involve more juniors. Now, it's hard to involve our group members in the activities
IET NITK:
The pandemic has definitely posed a significant challenge to the functioning of the club. The biggest challenge has been to keep people motivated to complete a project successfully. Since they are alone stuck in their homes, their motivation while working with their peers at MB is missing. Acquiring funds is a big concern, as most core SIGs need components to finish their project. Now joining a meet is just a click away, so we witness good participation in the meets; conducting events has become pretty easy compared to offline events. But again, that bonding over events is affected as the events aren't offline.
Since all the activities happen through one's laptop, the screen time is significantly increased.
SMILE Club NITK:
We had planned to visit places of historical importance as a part of our club activity. But it got cancelled due to the ongoing pandemic, along with other such outdoor activities.
Also, the pandemic has kind of dampened the spirit of club members, which I'm sure is the case with most other clubs. This is mainly because members aren't really getting a feel of doing club work actively. There is no face to face communication. As for almost all of us, home is the most significant comfort zone, contributing to it.
Also, network issues occur. Even on a good network, unexpected problems do occur.
Club activity being online has contributed to increased screen time. If it were offline, club activity would have become more of recreation and relaxing.
SAE-NITK:
Intra-club in-person meetings and team bonding sessions couldn't take place. The Club had 6 Technical Projects with good results (Link to Project Expo:https://www.youtube.com/watch?v=H_aWN_9bUgM&list=PLIaJ9nrOzsHo966HzflQiHt8WLcMDGIuC). SAE NITK Grandly Release Its Second Edition of Annual Magazine – SAE TechBuzz Vol 2.0 (Link: https://issuu.com/saeindia-nitk.edu/docs/techbuzz). But, The idea of printing the magazine hard copies and stocking it in NITK was not fulfilled. The projects were restricted to software-only implementation, and prototypes couldn't be built. However, the plan of the projects – learning and observation – was fulfilled. Events such as Kasting conducted during Engineer tech fest couldn't be held.
The club members were able to tackle the challenges effectively with guidance from SAE, the club leadership team and the faculty advisor. The senior members conduct KEPs (Intra Club and Overall NITK) to enrich the students with the software that would be used for projects. Senior Interaction Sessions were undertaken to help the juniors overcome the challenges faced in both academic and Club activities. Moreover, 2020-2021 was very fruitful as the Club successfully hosted its first-ever webinar and conducted an internship webinar with a broadly positive response. We also were able to partner with Exergic India for various club activities.
SPICMACAY NITK:
Affected in coordination in the team, had constraints for organising an event. And the major problem was ambiguity and confusion in using the SAC Funds in the odd semester. But it gave rise to a new scope of events, i.e. online events.
E-Cell:
E-Cell, as a club, had phenomenal success the previous online year. The core principle of E-Cell is that it strongly believes in nurturing critical thinking and business acumen by conducting workshops, speaker sessions, innovative games and competitions as well as providing student entrepreneurs with access to resources such as seed funding, mentoring, consultancy and networking. We were able to network & hold events that were never before possible because there were no geographical boundaries limiting our capabilities.
We did have a hard time initially responding to the changes because the club focussed more on external activities that support the budding student entrepreneurs.
On the brighter side, the first thing that E-Cell immediately did was trying ideas we might never even have thought about during offline semesters. We did 2 seasons of our Podcast series (Building Blocks of Business) where we invited alumnus and other entrepreneurs to share their thoughts and experiences. Another great initiative was the Startup Internship Programme. The team went to great lengths to find startups in and around the region with the help of many incubation centres to start an internship drive. This was done to provide exposure to start-up culture by collaborating with the start-ups willing to offer internship opportunities to the students of NITK Surathkal thereby providing a platform for highly driven individuals to get relevant experience in their desired fields and hopefully be inspired to start their own entrepreneurial journey.
NITK Toastmasters:
At NITK Toastmasters, our main aim is to learn, grow together, and become leaders.
The pandemic has opened a wide array of opportunities but with some restrictions. The online meetings involve sitting in front of the laptop for added hours apart from the regular classes. This, to an extent, affected the club. Since public speaking involves coordination between various parts like stage movement, hand movement, eye contact, speaking in front of the camera was a restriction.
With the online mode, we could coordinate and contact world champion speakers and organize learning sessions which would help us grow as a public speaker. We could attend and interact with members worldwide in meets and hold joint meetings with them. Participate in Division or District level activities with ease. All these activities would not have been feasible otherwise.
Flying and Robotics Club:
Our main concerns while working during the pandemic were engagement and productivity. Engaging with the teammates and building an environment of camaraderie became challenging as things moved online. Added to this was the fact that time management had become quite an issue in work from home scenarios. Being a robotics and aeronautics club, we have missed our 'hands-on' jobs very earnestly. Even our flagship event, 'Wright Flight', could not, unfortunately, take place last academic year. Nevertheless, we have rallied ourselves and have risen to engage and work in these times.
Our work now encompasses robotic simulations and aircraft design while also testing them in life-like environments. As far as bonding with our teammates is concerned, we have taken that quite literally to heart; our meets turn into play zones, and random conversations bring the whole club together as one. All in all, this pandemic has provided us with a bittersweet way to experience club activities.
IEEE NITK:
The pandemic definitely affected the club activities a lot, especially when it comes to hardware projects, even if we make arrangements to provide components to all the project members it isn't easy for the mentor to teach effectively.
It's also quite difficult to interact with people in the online setting, with people having bandwidth issues, limited internet, etc. On the brighter side, the software and simulation skills are also being honed quite a lot.
Q2. Next two semesters are mostly online, how do you plan to address the difficulties faced and lead your club?
Kannada Vedike NITK:
Last year we tried to conduct a quiz which didn't work out. Hopefully, this year we would like to collaborate with other clubs and conduct a series of activities. For example, we could have levels in a competition. We can easily relate those levels to the regions in Karnataka and would love to host a district-wide competition. A winner can be put forth to challenge other states. 50% of the people in NITK are Kannadigas, so trying to interact with them directly might be more effective.
IET NITK:
One of the biggest challenges faced by us was to conduct events. It has provided us with an opportunity to optimize. We could diversify ourselves in this online mode by learning new skill sets, which we wouldn't have learned offline. But getting people on board, having them constantly attend the meets, keeping up their spirit, having a good amount of interactions within all the members posed a challenge.
We look to increase the intra-club events to tackle these challenges, giving the members good opportunities to interact, share ideas, and make friends.
SMILE Club NITK:
Conducting meetings regularly, holding short activities amongst the club members, so they don't feel disconnected.
SAE-NITK:
We plan to conduct the Senior Interaction Sessions (a series of informal interactions between alumni and SAE seniors with the juniors) more frequently. Also, the possibility of running casual team bonding events such as games, etc., every two weeks is being explored. We plan to host a more significant number of online/virtual events than the previous year on platforms such as D2C to increase the club's reach.
The Most Important and Integral Part of the Club – THE PROJECTS, shall be tied up with companies to improve the talent and outreach of our executive members.
SPICMACAY NITK:
Since utilising SAC (Student Activity Centre) Funds isn't ambiguous now, we can freely conduct more online events. This year gave us an idea of how it goes about online events. So this will help us improve our coordination of our events and associated activities.
E-Cell:
For the previous two semesters, E-Cell's 2020-2021 Core Team had taken the club to new heights and the team this year will be continuing the same initiatives that they had started. As a club, the online mode of working has been better for the team as we have been able to network, support and grow more.
For our upcoming year, we will be building upon the same ideas that were acted on last year along with introducing some fresh new ones. But our main priority will be focussing on the members of the team.. We realised that all our members have different aspirations and motivations for joining the club but due to the nature of the online semester and lack of more informal communication between members, we weren't able to successfully deliver the same experience that the team could have had it been offline. So the 2 things that we are setting up as the base of our focus this year, for the members, are – Learning and Networking.
The club also had a lot of connections with startups that were started in college and alumni who founded startups later on. We will be leveraging these connections and creating opportunities for our members to discuss and learn about various fields. We will be having member exclusive sessions to learn and become better leaders, negotiators and analytical thinkers, setting them up for a bright professional career post-NITK.
NITK Toastmasters:
For the past year, the club has adapted to the online mode. For the next two semesters(online), to ease the discomfort of sitting in front of the laptop for added hours, the meetings will be scheduled on a weekend so that people are relatively free from regular classes and other commitments. With the online mode, to learn and grow, various educational sessions will be organized with experienced speakers from around the globe delivering them. To increase member interaction and bonding, fun meets will be conducted, and joint meets will be arranged with various clubs to shift from the regular weekly meetings.
Flying and Robotics Club:
Our main plans involve participation in this year's online expo; we shall have projects demonstrating robotics and aeronautics concepts that are relevant to the industry and academia of today through our major projects.
There will also be a focus given to building a knowledge base for the new members of the club, who provide us with great value and enthusiasm, which we realise is essential and that much more difficult due to the online semesters. This will be done through mini-projects where they are guided by the seniors of the club.
IEEE NITK:
The pandemic helped us to understand and gain more experience with the software tools and simulation platforms, so in the future when we get completely offline it'll help us build hardware projects with lesser error in a more robust way.
We plan to keep more interactive sessions within the club to engage among ourselves and get to know each other better. Whereas we have come up with a few new events like The Piston Challenge, Mystify, Impulse SP Hackathon, among others to have more interaction with the first years. As far as publicity is concerned, We are striving for more eye-catching illustrations to grab the attention of the audience on social media and also putting the information out there on all the platforms available to us.