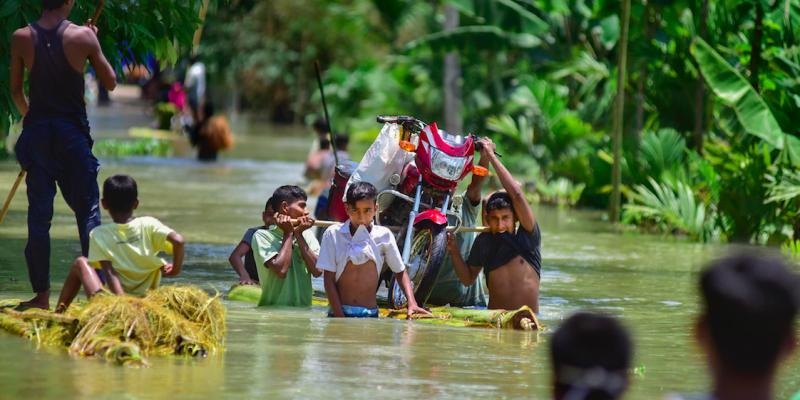 Remember New Year's Eve 2019? As the clock struck midnight, you were probably looking forward to 2020. Maybe you had plans to kick back on a sun soaked beach in Goa. Maybe you had a resolution to have a productive academic year and get that bread. Instead, your 2020 so far has been full of completely novel, whack experiences. Toilet paper panic buying, social distancing, lockdowns, washing and sanitising your groceries and greeting your squad with elbow-bumps instead of hearty embraces. Disaster however, is a staggeringly relative quantity. While the more fortunate of the world have been wallowing in self pity at home, eating cereal instead of restaurant sushi, the people of Assam have been caught in a maelstrom of unimaginable turmoil.
Three protracted, torrential spells of rain since May have inundated the state in treacherous waters, further exacerbating the blight of the COVID pandemic. At the time of writing, 2.7 million people have been affected, over 91 casualties have occurred and 3300 villages across 25 districts are underwater. Over 3,90,000 hectares of agricultural lands, growing paddy and vegetables, have been razed. There are thousands of people who have been rendered homeless and are living in relief camps. Substantial areas of the Kaziranga National Park and Pobitora Wildlife Sanctuary have been affected by floods, killing 398 animals and forcing lakhs of others to move to other places. Animal cadavers float around everywhere and it is a disturbing sight. Stagnant water is quite a potent catalyst for vector-borne diseases, and mosquitoes have brought about 23 deaths through malaria and Japanese encephalitis.
Reasons for the ravaging
The Brahmaputra is the backbone of the northeastern state. Assamese society celebrates the abundance of river water and various folk songs are dedicated to its majestic brooks. Traditionally, the floodwaters would replenish crops and soil and they were not necessarily seen as a menace. The Brahmaputra is well known for its irascible, metronomic tendencies to overflow every year. Almost all parts of Assam, barring a couple of areas, bear the brunt of the deluge. Approximately, 200 die annually in the wake of these floods. However, the latest bout is more problematic as rescue personnel have to comply with coronavirus-induced safety protocols, which complicates affairs substantially.
There are many reasons as to why floods in Assam are not uncommon. Topography plays a major role. Most of the rivers flow downstream in the state. They build up force during their descent, especially during incessant rainfall, leading to breaches in embankments. Assam has faced bank erosion around the Brahmaputra and Barak rivers, and their tributaries. Nearly 8000 hectares of land is lost to erosion annually. Bank erosion has also affected the width of the Brahmaputra river, which has increased by a staggering 15 km. There are also human-induced problems like construction of dams, destruction of wetlands and deforestation. Unregulated release of water from dams flood the Assam plains, leaving thousands of people homeless every year. Most cities and towns suffer due to poor planning, and substandard drainage only begets stagnation of stormwater.
This time, the floods were caused by an excess summer monsoon that affected the state of Assam. By the 21st of July, the meteorological subdivision of Assam and Meghalaya had recorded a rainfall excess of nearly 30%. The catchment areas of nearby states, Arunachal Pradesh and Sikkim received excess rainfall too, nearly to the tune of 16% and 45% respectively, aggravating the flood situation. The rivers in the state, including the Brahmaputra and the Barak are flowing menacingly above the danger mark. In Guwahati, the water level of the Brahmaputra river is rising at a perturbing rate of 1 cm per hour.
Flood and the virus : Dealing with the double trouble
According to the state government, 615 relief camps have been set up across the state. Around 16 NDRF teams have been carrying out rescue work in flood-hit areas, with the personnel evacuating villagers, livestock and transporting them to safer places. The floods coincided with the highest single-day spike of 1,218 coronavirus cases. At the time of writing, the state has logged over 34,000 positive cases and there have been 88 deaths. It is a twofold challenge for the government, and taking this fight head-on are frontline government functionaries, with many of them doubling up as COVID-19 warriors and flood relief managers. Screening, testing and quarantining people, along with managing floods in compliance with social distancing protocols is quite an arduous task. The Assam police have deployed a skeletal force to ensure social distancing, but over 700 policemen have tested positive along with several frontline workers. A Herculean effort is being put in round the clock in one district after another. Adding to the worries of authorities, floodwaters in Assam are spreading discarded medical waste from hospitals and COVID care centres, raising fears of infection among people in inundated areas. Locals in Chandrapur near Guwahati had complained to the authorities about discarded wastes flowing into their compounds. Officials of the Assam State Disaster Management Authority have voiced concern over reports of discarded personal protection equipment kits, masks, blood pouches, syringes and other hospital wastes amid floodwaters in some parts of the state. Officials stated that a private firm had been assigned to collect and destroy such wastes, but had dumped it into the open instead.
First-hand accounts of our students
We reached out to two students from our college who hail from Assam to hear what they had to say about the Assam floods, Arnab Kumar Roy – M.Tech 2nd year and Pragyan Das – B.Tech 3rd year (Mech)
Arnab – "This year we have received a heavy amount of rainfall and you can count the number of sunny days on your fingers. Sometimes, it rains 10-12 hours in a day. We live near the Brahmaputra river and this time, the water level has exceeded the safety standards very early."
His grandparents still practice farming, so they have wetlands nearby the sub-river called Hothotori which is now totally flooded and crops have been destroyed. Most of the village areas are under water, and it has become a common practice to migrate to upper regions during floods. Since the house where they resided initially, located in the village Mohanpur is flooded as it is in a lower region, his grandparents have shifted to another house in that town, which is out of danger. Unlike his grandparents, most farmers only have a single house and all their crops have been destroyed this year, so they have no choice but to take shelter in flood refugee camps where ten or more families stay under one roof amidst the ongoing pandemic. The coronavirus has become a secondary priority, as feeding the homeless farmers is of bigger concern. In their town of Bongaigaon, rainfall is a major cause of anxiety, but due to the release of dam water from Bhutan (about 30 kms away) they have concerns of flash floods as well.
"Sometimes, you are sleeping and suddenly, huge amounts of water come rushing into low lying areas. You have to flee from your house in the middle of the night.", he recounts.
He believes that the matter of prime importance right now is the help from the government because people are unable to pay for the rising cost of everyday necessities. Many markets have increased prices of everything and demand exorbitant sums of money. Farmers and daily workers, which make up almost 60% of the state workforce have had no income for months, are left fearing for the survival of their families.
Pragyan – "I am currently safe here. I hail from a city called Tezpur which is a highland, so my city isn't one of the affected areas. But the highways connected to this city are completely flooded."
Pragyan said that around this time every year, floods wreck all the highways, and Majuli (the largest river island in the world) is completely underwater. People usually keep self made boats in their houses as a precaution to survive. It is hard to actually describe the fear and pain people are going through. Hordes of people gather for shelter and starve for days. Despite all this, they keep alive their hopes of getting rescued.
He is of the view that this cannot be called a natural calamity, because this has turned into an annual affair now as people and the government are well aware about this, yet it is grossly unprepared for. After the floods, relief centers are set up and consolation funds are given which doesn't make up for what has been lost. What surprises him is that 26/33 districts are affected and this is still not making it to the headlines of national media. "We are with you Assam. Stay strong" – Arsenal FC expressed their solidarity with Assam leaving them all alone to battle this calamity and they feel isolated from the rest of the nation. The Northeast has been constantly ignored since independence. Since then, the only thing that is required to solve this issue is to have a planned way to drain water and precautionary measures like building banks. But this is still a distant dream for the people in Assam. Whether it is deliberate or not, the policymakers are still unable to look at the evidence and stark problems right in front of them. Fortunately, a lot of fundraisers have been organised by various concerned people, and they are grateful to have received help.